Marsh Invader: Phragmites Australis
A project conducted by Rosmery Moran in Dr. Grella's Research Class.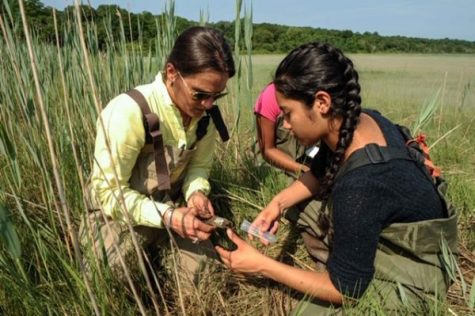 This study investigates the durability of invasive Phragmites australis against freshwater and saltwater intrusion. Phragmites australis is a tall perennial grass that can grow to over 15 feet in height and it can be found in just about every continent on this Earth. Although the effects of salinity and flooding on Phragmites australis have been observed separately in field experiments, an interactive study of these effects has not yet been reported. With this in mind, I was interested in observing how P.australis would react if we were to flood them with saltwater and freshwater.
To determine the response of Phragmites australis to high levels of saltwater, a total of twenty-four P. australis plants were collected from Flax Pond Marine Laboratory at Old Field, N.Y., and taken to the research greenhouse at Brentwood High School in buckets of water. Upon flooding Phragmites with saltwater (27 ppt) and freshwater (0 ppt), it was concluded that flooding the Common Reed with higher levels of salinity treatments (specifically 27 ppt) is in fact an effective way of successfully removing the invasive species. This information helps in planning and prioritizing additional restoration activities at Flax Pond, Old Field, NY.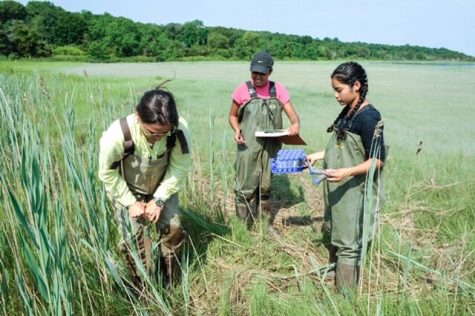 This present experiment may have not included a large enough sample size from each of the sites over a long enough time period. However, this study provides us with a framework for our future flooding protocol which will include the introduction of increased levels of saltwater intrusion on invasive Phragmites australis parcels located at Flax Pond Marine Laboratory to decrease and eliminate invasive Phragmite.
To learn more about the projects conducted in Dr. Grella's and Mrs. Medwig's Research courses, visit http://letssciencethat.org