Meet the New Staff of Ross and Sonderling
October 8, 2021
From teachers to guidance counselors and even the school nurse, Brentwood High School is home to over 20 new faculty members this school year. As a School Improvement Team (SIT) initiative, we composed a list of all recent hires so that staff and students could learn more about the new employees that have joined our Brentwood family.
Kevin Ahearn
Ross Physical Education & Health Teacher
Hello, my name is Kevin Ahearn and I am a physical education and health teacher in Ross. I am very passionate about health and wellness and physical education and the value it brings into our lives. I graduated from SUNY Cortland in 2015 and am currently in my last semester as a graduate student in SUNY Plattsburgh's fitness and wellness program. I am currently coaching the boys south middle school soccer team. I am excited to be working full time at Ross high school and am excited to see what the future brings.
Scott Davidson
Sonderling Guidance Counselor
My name is Scott Davidson and I am a School Counselor at the Sonderling Center of Brentwood High School.  I have an undeniable passion for school counseling and for helping students become all that they are capable of being.
I received my Bachelor of Arts degree in Psychology and Sociology (dual major) as well as my Master of Science in Education: Counseling degree from Hofstra University.  I have had a variety of experiences as a school counselor.  At Hofstra University, I was the Graduate Assistant of the Career Center and actively engaged in career counseling with the students I was assigned.  During my internship at Farmingdale High School, I academically advised, counseled and created career plans for students.  My most recent experience has been helping students navigate the college application process as an Admissions Advisor at Farmingdale State College.
My experience in school, admissions and career counseling will help with the social/emotional, academic and career development of each student with whom I work.   Please do not hesitate to reach out to me with any questions or concerns.  I look forward to working with you all!
Dominique Donnelly
Ross Special Education Teacher
Hi! My name is Dominique Donnelly and I am so excited to begin a new chapter here at Brentwood! Although this is my first year in Brentwood, I have been teaching for the past 5 years now. I am married to my incredible husband Keith who is also a teacher and we have a fur baby together named Cali. I went to Western New England University in Massachusetts and earned my Bachelor's degree in Creative Writing then went on to obtain my Master's Degree in Inclusive Secondary Education from Hofstra University. Education was not my first career choice growing up but now that I have found my true passion, I look forward to where this journey will take me, especially here in Brentwood! When I am not teaching, you can find me enjoying the outdoors, reading, writing, or crocheting. I look forward to getting to know everyone!
Erica Edouard
Sonderling World Language (French) Teacher
My name is Erica Edouard and I am a French teacher at Brentwood High School. I grew up in Brentwood and attended school there for my entire life. I am excited to work in the school where I grew up. I went to Dowling college where I received my degree in Secondary Education and Romance Languages. I am bilingual and love any chance I get to speak French and Haitian Creole. I'm a self-proclaimed foodie. I love to experience new restaurants or try new recipes.
Gabriella Ferro
Sonderling Psychologist
Hello! My name is Gabriella Ferro, and I am a new school psychologist for the Brentwood School District. I work at FJC Southeast Elementary School on Monday through Wednesday, and Brentwood High School- Sonderling Center on Thursday and Friday. This is my second year as a school psychologist and I am ecstatic to be back, as I did my internship at Brentwood High School in the Ross Center for the 2019-2020 school-year! I graduated from CUNY Queens College with a Master of Science in Education in School Psychology. This year, I will be conducting psychological evaluations, facilitating individual and group counseling, consulting with staff, and providing overall social-emotional support to the students. When I am not working, I enjoy spending time with my family, reading, and exercising. Looking forward to meeting more of the Brentwood staff and I am so happy to be a part of the Brentwood community!  
Danielle Fischer
Ross Math Teacher
Hi! My name is Danielle Fischer and I am a Math teacher in the Ross building. I graduated from Adelphi University with a bachelor's degree in Mathematics and a master's degree in Adolescent Education. This is my eighth year teaching, but my first year at Brentwood High School, and I could not be more excited to become a part of this wonderful district! Besides teaching, my passions are health/fitness, food, and travel. I love to run outdoors, and have so far been to 14 countries 😊
Marlyn Garcia
Sonderling Social Worker
I am beyond excited to be part of the Brentwood School district family. I attended Brentwood schools up until 2nd grade and interned at an elementary school during my undergrad studies. After I finished Grad school, I went on to work in the Domestic Violence & Rape / Sexual Assault field for eight years. Later, I went on to explore a school social worker position at a private pre-school for special needs children. Because of this experience, I knew I wanted to be back working at a school. I manifested to the world my plans and here I am!
I have a wonderful hubby and two amazing kiddos that keep my heart beating and my world spinning, Santiago (13) and Adriana (8). When I am not working, you can find me at the soccer fields (soccer mom duties), dance studio and soon, basketball and volleyball practice. My favorite things are pizza, dancing Salsa, and going on bike rides. Oh and how can I forget to mention my adorable goldendoodle, Malibu Lily ❤ She's the heart of our home!  For those wondering about the pronunciation of my name, it's pronounced Mar-Lean but spelled Marlyn.
Erika Hesselbirg
Ross Special Education Teacher
Hi! I am Erika Hesselbirg. This is my 5th year teaching, and I am extremely excited to be here. I enjoy playing with my three dogs, Skylar, Dakota, and Axel or going to see my one-year-old nephew, Carter. In my free time, you can find me either binge watching TV shows, or curled up reading a book. My favorite vacation spot is Walt Disney World, although I would love to travel to all 50 states. So far, I have been to 18 states so I think I'm making good progress!
Kristen Latuga
Sonderling Special Education Teacher
My name is Kristen Latuga and this is my second year in Brentwood, but first year at Sonderling High School. I left for a probationary position at Baldwin High School last November where I was teaching Special Education/Math since 2010.
When I'm not at Brentwood High School, I can be found gardening or on my farm with my horses, pigs, sheep, goats, chickens, ducks, turkeys, etc. I also run a 501c3 nonprofit, called Brucie's Angels Inc., which provides permanent and temporary homes for retired medical research lab animals as well as educating the public about the health, well-being, care and consideration of the retired research animals while inside the laboratories. I'm very excited to be at the high school and look forward to a wonderful school year.
Maureen Lundquist
Sonderling Physical Education & Health Teacher
Sean O'Neill
Sonderling Science Teacher
"You are here now?" That has probably been the most used greeting in the past few weeks. My name is Sean O'Neill and I teach Living Environment and Unified Science in Sonderling. This is my 24th year teaching in Brentwood – the previous 23 years in the Freshman Center. One of my core principles is to continue learning and improving – that is the main reason I requested a transfer to the high school. Fortunately, I have already had collaborative discussions with many of my colleagues. The students provide an amazing amount of insight and feedback as well. It is great to have so many top professionals to learn from. Each day provides an opportunity to learn. 
Giacomo Pellegrino
Sonderling World Language Teacher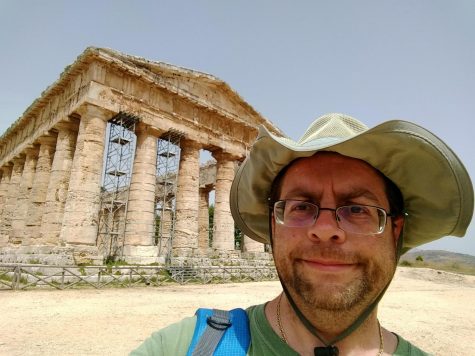 Hello, I am Giacomo or Jack Pellegrino (whichever is fine for me). I am one of the Italian teachers in Sonderling.  I enjoy music, the arts and traveling not just to Italy, but I have been all over the world.  I like to explore diverse cultures but I have to admit, I am a bit of a whimp when it comes to different foods.  No offense to anyone but we Italians tend to have something there.
I am not quite a new member.  I was at the High School from 2007 through 2018 as a split teacher between Sonderling and the Freshman Center which had been my home school for the past 17 years.   It wasn't until I was reassigned there full time that I realized what I left behind here; a second family when I am not at home.
There isn't anything wrong with the Freshman Center.  Keep in mind where our fantastic students all come from, and I leave many family and friends behind there too.  It does have one terrible flaw though, which has been the fire behind my requests to be relocated here; and it's that it is a one-time deal.  Rarely do we get to see students grow and flourish nor do we have that many opportunities to be there for them after they complete the ninth grade. Each morning when I arrive, I'm still in disbelief that I finally made it here and I couldn't be happier.  I am located mostly in 1826 right next to the Sonderling Senior Cafeteria and I've also been given the Italian Club this year which I am looking forward to.  All are welcome so please come join us.  Feel free to stop by or message me in TEAMS.
Lisa Ponce
Sonderling Social Worker
My name is Lisa Ponce; I am a new bilingual school social worker in the district working at Brentwood High School (Sonderling) on Monday through Wednesday and at Southeast on Thursday and Friday. This is my first year as a school social worker, however I have been an intern within the district since 2018. I have also served as a mentor in Brentwood through the New York State Mentoring program.
Brentwood is very near and dear to my heart, as I am also a Brentwood High School alumna. I attended Long Island University (Brentwood campus) where I obtained a Bachelor of Social Work and a Master of Social Work, with a concentration in children and families.
I will be facilitating individual and group counseling, support social emotional learning initiatives within classrooms, crisis intervention, and completing social histories and counseling screenings. When I'm not working, I enjoy spending time with my family, reading, writing poetry, and hiking. I look forward to working with Brentwood staff and the community in empowering our students to achieve their goals.
Marisa Potuzak
Sonderling Art Teacher
My name is Marisa Potuzak. I am new to the high school but I have been an art teacher in the district for 12 years. I have taught elementary, middle, and high school. Most recently I was teaching at the freshman center.  I am very excited to be at the high school and teaching all different art classes and seeing former students again!
Michelle Rowlette
Sonderling Math Teacher
My name is Michelle Rowlette and I am a Math teacher in Sonderling. I have a bachelor's degree in Math and my master's in Curriculum and Instruction. For the last several years, I have been a substitute teacher with multiple leave replacements, so I am very excited to be starting this new chapter here at Brentwood. Aside from teaching, I love cooking, hanging out with my kids and dogs, and going to Disney.
Anna Taldone
Ross Guidance Counselor
My name is Anna Taldone and I am the School Counselor for the Ross Center at Brentwood High School.  My passion is to empower students to  become the best version of themselves.
I received a Bachelor of Arts degree in Elementary Education and a Master of Science in School Counseling. For the past 3 years I have been able to obtain 3 leave replacements for the Brentwood School District. I have made so many strong connections with staff, students and their families. I am very honored to be a part of of the Brentwood Community!
I also have a passion for running, skiing and being with my family. I have 3 beautiful children, Anthony (9), Benjamin (6) and Fiona (4) and a very a supportive husband. Life is good.  I am extremely excited to meet all of you.
Iris Urquiza
Ross World Language Teacher
Greetings! I am very excited to be part of the Brentwood school district family and work with the children of my community. I have lived in Brentwood almost my entire life and when I walk down the same hallways I did as a child I am filled with pride and joy. I feel very fortunate to work with the amazing individuals I have met so far. For the first 25 years of my working life I managed an attorney's office in Brentwood. After helping my community for so long in the legal field I feel it's a great transition to work now with the children in the community. I am certified to teach Spanish in grades 7th-12th and look forward in making my experience a memorable one in the district.
Tristan Verdone
Ross Science Teacher
Hi, I'm Tristan Verdone. I am teaching Chemistry at the Ross Building. I had previously taught Chemistry and Biology at Miller Place and Connetquot. In my free time I really enjoy playing soccer, cooking, and pretty much anything outdoors. I am super excited to join the Brentwood staff and have heard so many good things about it.