Research Students Overcome Covid-19 Obstacles to Enter Regeneron Competition
January 5, 2021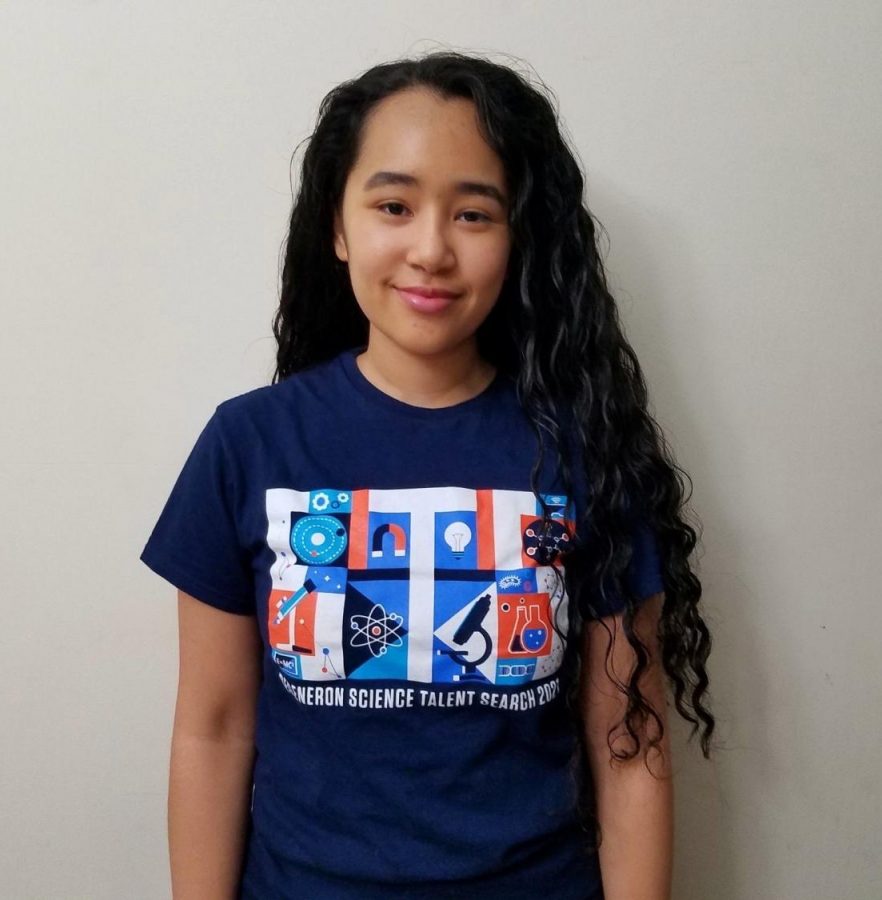 Every year, senior research students compete in the prestigious Regeneron Science Talent Search for a chance to win $200,000 by entering a three-year-long project.  
Without a lab to work in as a result of the Coronavirus outbreak and subsequent school closures from March to the start of September, students entering the 2020-2021 competition had to find creative solutions to continue their research projects at the end of the 2019-2020 school year, as well as over the summer.
Since students must include their sophomore, junior, and senior studies, charting every moment of their journey into one application, students were in dire straits. Without labs and equipment to continue their experiments and studies, they ran the risk of forfeiting their ability to enter.
Throughout the process of identifying and locating suitable spaces to continue their research, students remained optimistic and resourceful. With a little help from State Park personnel, Dr. Grella and some of her students set up a science research program at Sunken Meadow State Park.
On student, Ashley Alcantara, moved research equipment and test subjects into her garage with assistance from Dr. Grella and Brentwood School District's Building and Grounds Department.
Ranging from invasive plant species to biodegradable mushroom packaging, the young researchers successfully entered a wide array of projects to the 2020-2021 competition.

Jaden Jones, who studied bees, clarified that although the process hasn't been easy, she was able to submit an application she could be proud of.

"I felt pretty prepared to apply. I'm apprehensive if I put my best foot forward, but I'm sure that given the circumstances, I did the best I could," Jones said.
However, Jones notes that the circumstances of Covid-19 forced her to abandon some of her test subjects in the lab. With no access to her lab bees or the tools utilized to study them, she had to leave out some important data from her application.
"I didn't feel that my 3 years of work was displayed. My whole project was about bees and the microbiome. It's hard to do anything when all my dead bees are in the lab, the Petri dishes are in another lab, and I'm not allowed into either or even remotely close to being able to do it at home," Jones said.
Focusing on plastic degradation, Nabihah Ahsan felt that her project was able to capture her work of the past two years. Ahsan was not as disadvantaged as Jones due to the changes brought about by Covid-19.

"I definitely believe that the end result of my application truly describes my two years of research. Every part of my application built upon something I had done in the past, almost like a chronological sequence of advancements on my study," Ahsan said.
Several students discussed the positive traits they adopted as a result of their participation in the research program. Jones, for instance, developed a newfound adaptability.

"Throughout the process, I learned to be flexible. The only constant in life and in Grella's class is change," Jones said.
Mushroom researcher Ashley Alcantara explained how the program gave her a stronger sense of surety and self-confidence.
"I learned that I'm more capable than I make myself out to be. Sure I was pushed to my limits, but I was able to learn how to endure and persist in order to accomplish this great milestone in my high school career," Alcantara said.
Jones, Alcantara, and Ahsan had noteworthy recommendations for underclassmen who plan to take Dr. Grella's research course in the future.
"Start writing early. If [Dr. Grella] tears your paper apart in October, you have time to rewrite it before the November deadline!" Jones said.
"Do not procrastinate! Have a schedule. Set little goals for yourself daily. Just make sure that you give yourself enough time and manage your time well so that you are not overwhelmed," Alcantara said.
"Engage in things you are truly passionate about and don't waste that passion. It can definitely become difficult to create a balance between school and life, which is why it is vital to learn time management," Ahsan said.
Though the changes brought about by Covid-19 were unexpected, students were able to cultivate two skills that any great scientist needs: adaptability and  innovation. All of them can say that they entered their senior year a little bit more knowledgeable, appreciative, and determined for the road ahead of them.

Now that the Regeneron process is over, they aim to continue their work for the Dear Brentwood Project and the "Let's Science That!" website.  Additionally, they will assist the underclassmen in preparing for the vigorous scholarship opportunity that awaits them at the beginning of their senior year.
Update: As of Thursday, Jan. 7, Ashley Alcantara has been declared a Regeneron Semi-Finalist. She is one of 300 students who have been selected for the prestigious designation out of the thousands of applicants who entered nationwide.
Continue reading to learn more about each of the research projects submitted to the 2020-2021 Regeneron competition by Brentwood High School seniors.
Biodegradable Mushroom Packaging
A research project by Ashley Alcantara.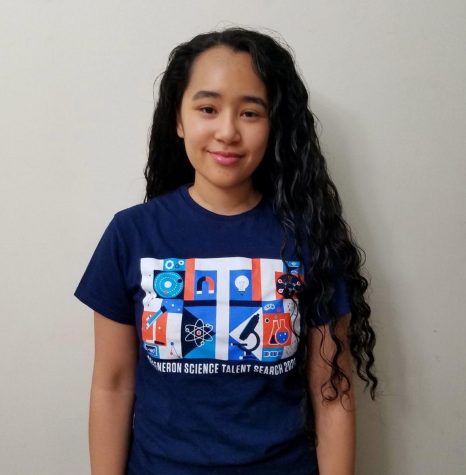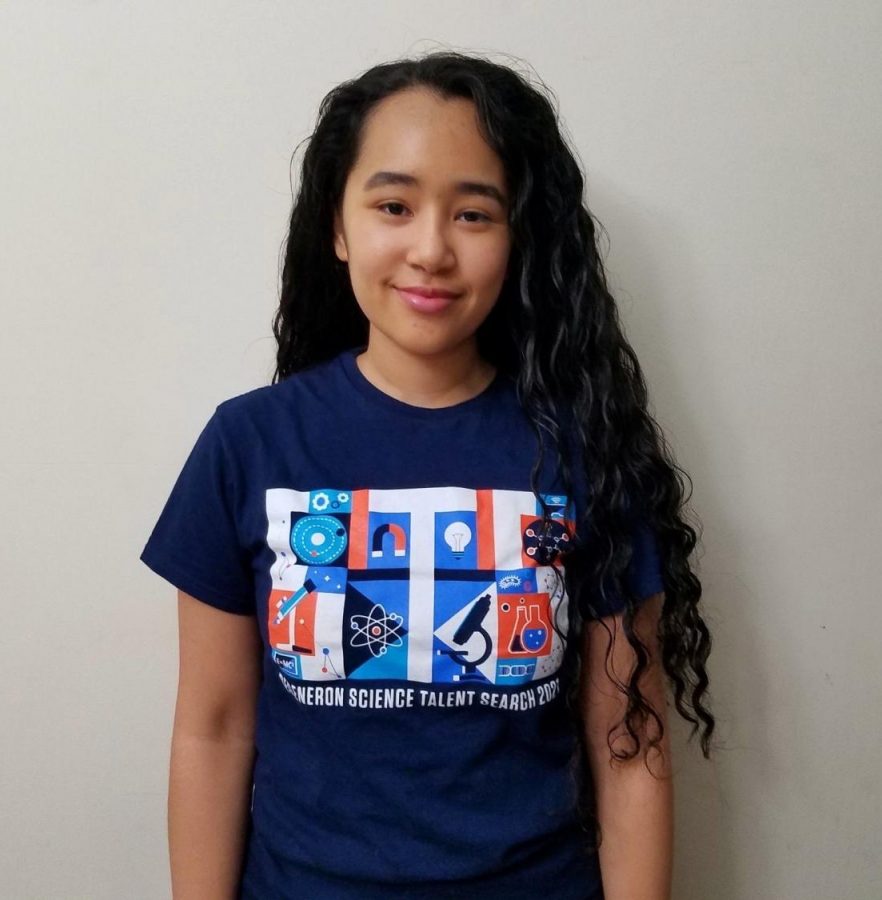 Plastic pollution is a worldwide issue. Plastic packaging production and consumption contributes to this problem as they pollute our land and ocean environments, posing health risks to both humans and animals.
To address these issues, the current project investigates the application of farming mycelium extracted from the fungi Pleurotus ostreatus in devising biodegradable packaging.
The growth of P. ostreatus was observed and recorded on different substrates and culture mediums. Mycelial growth experiments were conducted on hay, rye seeds, malt agar, Xanthan Gum, Guar Gum, and flour.
Additional studies were conducted using hay, Xanthan Gum, and Guar Gum as coatings and substrate. These substrates proved to be viable in creating mycelium-based objects and molds.
To assess if mycelium-based packaging is equally as sustainable as petroleum-based packaging, a compression test using an Instron machine was used to analyze the compressive strain and Young's modulus (E) of mycelium and mycelium coated with Xanthan and Guar Gum. Results of this test indicate that mycelium alone is most applicable for packaging as maximum compressive strain and Young's modulus was greatest in this cohort.
Mycelium alone was then compared to Styrofoam and results indicate that Mycelium packaging is 13 times stiffer than Styrofoam indicating its resistance to compression. Additional experiments assessed degradation rates by exposing mycelium and mycelium coated with Xanthan and Guar Gum in both indoor and outdoor environments.
Results indicate that mycelium-based packaging is a greener, viable, and effective alternative to petroleum-based packaging and may be a solution to global plastic consumption.
Plastic-Degrading Fungi
A research project by Nabihah Ahsan.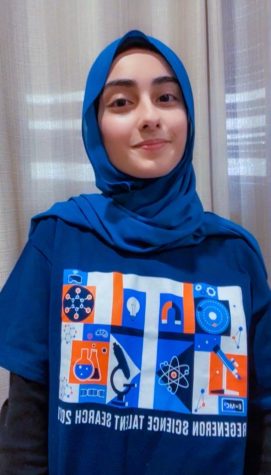 Plastic pollution has long become a global dilemma and current methods of removal from the environment have largely been unsuccessful due to their limitations and harmful long-term effects.
Whether it is burning waste or depositing it into landfills and oceans, we are counteracting our efforts at saving the environment.
The purpose of this research is to analyze the effects of plastic pollution on our coastal ecosystems by categorizing and quantifying plastic debris along a Long Island beach and to propose a novel mitigation method to sustainably degrade plastic.
For this study, Sunken Meadow Park, located in Kings Park, N.Y., was surveyed for plastic pollution. The coast was analyzed using aerial imaging coupled with on the ground sampling to assess trends in concentration, type, and location of plastics.
Survey data suggests that hundreds of pounds of plastic, mainly High-Density Polyethylene (HDPE), line this beach. My project provides a safe alternative to this issue by using fungi to break down these plastics in a more efficient way.
Current methods pose more long-term harm than good; however, using bacterial enzymes or fungi may offer better solutions. Thus, this project also addresses the efficacy of the fungus Aspergillus niger in degrading HDPE. Not only will it allow us to further studies in the biodegradation of plastics, but it will also allow us to take a closer look into the biochemical properties of fungi.
Laboratory findings support that A. niger, when exposed to an environment with HDPE, indicates A. niger's potential in degrading HDPE. Therefore indicating A. niger as a potential solution to plastic pollution.
Saltwater Effect on Japanese Knotweed Survival
A research project by Leena Alzafarani.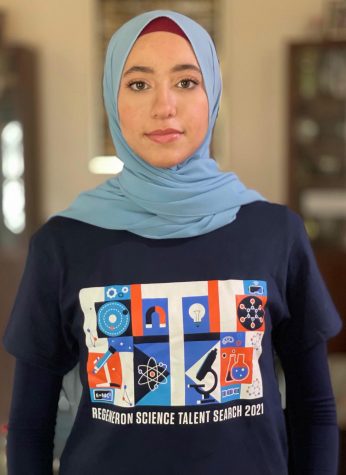 Japanese Knotweed is a dense growing shrub that can reach heights of up to Japanese Knotweed, Reynoutria japonica, is a dense growing shrub that can reach heights of up to ten feet.
Japanese Knotweed is often found along roadsides and stream banks. Invasion occurs when dense monocultures expand and when rhizomes are fragmented.
Management and eradication of Reynoutria japonica is difficult as reproduction occurs both vegetatively and through seeds and can survive in almost all pHs.
One of its common eradication methods is the use of the harmful herbicide glyphosate. Glyphosate inhibits the photosynthesis process of the plant causing it to lose its functionality.
The present study focuses on inhibiting the plants' photosynthesis process, the way glyphosate does, through manipulating the osmosis process to determine if watering this plant with salt water is an effective eradication method.
The current study determines saltwater's effect on R. japonica's survival by treating four out of the eight parcels with 20 gallons of saltwater from a nearby water body to fight nature with nature.
Chlorophyll fluorescence was measured every two days for about six weeks. The current study data suggest that watering Reynoutria japonica with 20 gallons will decrease the chlorophyll fluorescence, indicating that the photosynthesis process was inhibited, causing the plant to lose its leaves and die, illustrating the efficacy of salt water as an effective environmentally safe, mitigation strategy. 
Fragment Viability of Japanese Knotweed
A research project by Amber Connell.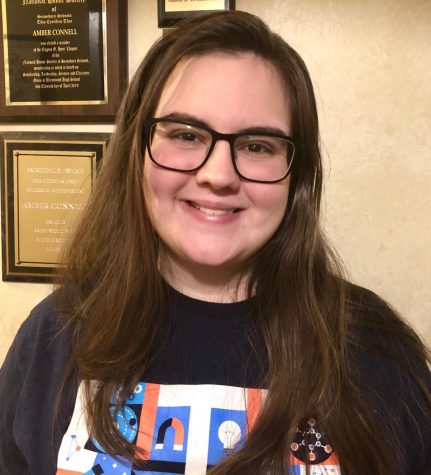 Japanese Knotweed, otherwise known as Reynoutria japonica, is an invasive dense-growing shrub, commonly located along roadsides and stream banks.
Japanese Knotweed is responsible for the destruction of infrastructure, underground services, pavement, tarmac, building foundations, wall structures, roads, and more.
Invasion within the United States occurs when dense monocultures expand and when rhizomes and shoots are fragmented, which may occur from environmental perturbations or human removal.
Management and eradication of Reynoutria japonica is considerably difficult as it can regenerate itself both vegetatively (rhizome and shoots) and through seeds.
In the present study, three experiments were conducted to assess vegetative fragment viability in both the field and the laboratory.
First, I assess the vegetative propagation of three fragment viability experiments, two of which are performed under a controlled environment while the other is observed in the field. Data suggests that smaller rhizome fragments are just as viable as larger fragments in regenerating.
Findings suggest that there is no difference in growth when comparing different-sized fragments. My analysis on the regenerative abilities of shoots indicates that they remain viable. Therefore, it is necessary to be vigilant of vegetative fragment size when removing this species.