Filling Out the Common App
Setting up your Common Application profile is vital for students planning to apply to college. The majority of colleges use Common App, which is why it is important to set up your account as soon as possible. Juniors should begin working on it during the summer before their senior year.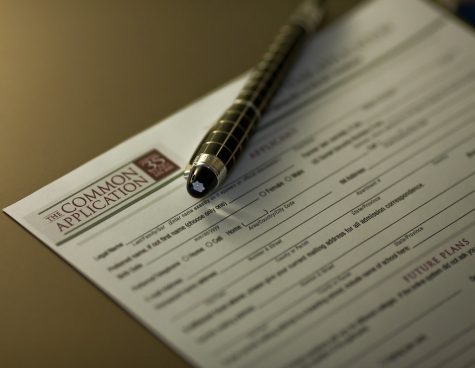 Step 1: Select your colleges 
Using the College Search tab, you may look up all the colleges that interest you and add them to your dashboard. Make sure you apply to several reach, target, and safety schools. 
Here's a breakdown of what those are:
Reach schools are those that you may dream about attending, but may be the most competitive to apply to.
Target schools are the ones that you feel confident applying to because you meet their standards for admission, based on your SAT or ACT scores, GPA, and other factors.
Safety schools are the ones that you know you will get into based on the same criteria listed above.
Remember to connect your Common App account through Naviance! You may add or remove colleges at any time. 
Step 2: General Information 
Under the Common App tab, you will be able to set up your profile. Fill in your personal information as well as everything they ask about your education or test scores. 
Although you may self-report your SAT or ACT scores, colleges will later ask you to transfer your scores from College Board which is why it is important that no mistakes are made.  
Step 3: The Activities Section 
The activities section is one of the most important parts of your application. This is the section that will help you stand out amongst the thousands of other applicants applying to the same college. 
Since there are character limits, make sure to give a short but sweet description of the clubs and activities you have participated in throughout high school. When describing your activities, use descriptive words such as "engaging," "interactive," or "dynamic" rather than simply "fun" or "helpful."
You will only be able to add up to 10 clubs or activities to your list, so make sure you choose the clubs where you dedicated most of your time, especially if you held a leadership position.
Step 4: Personal Essay 
You must copy and paste your personal essay into the writing section of the Common App. If you are unsure of what you want to write your essay about, take a look at the list of prompts provided in this section.
Your essay does not have to answer the prompts, but it may help you plan your essay. Make sure that you do not include the name of any college into your personal essay because every college will be able to see it! 
 Step 5: Courses and Grades
Not all colleges require you to fill out the courses and grades section on the Common App. However, if they do, make sure all grades are filled in correctly! 
Step 6: Submitting 
Once you're done filling out the Common App profile, congrats! You will now be able to submit it separately under the tab for each college when you are ready to send your entire application.