Satire: Crayola Box Plan to Replace Original Tri-color Hybrid Plan
A few more colors can't hurt, can they?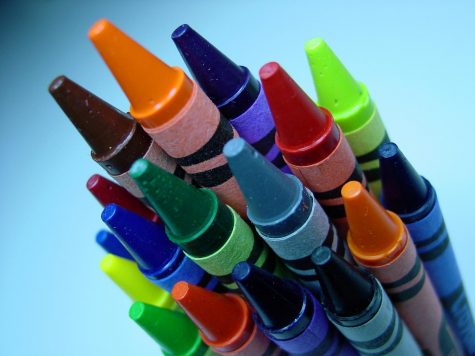 Starting April 1st, 2021, Brentwood High School will introduce a new color schedule for all students in grades 10-12. The school district has decided to call the new schedule the Crayola Box Plan.  
The plan was created after students and parents complained about the lack of choice in green, gold, and teal schedules. The major concern was that it caused complications with attendance.  
Some students like to stay up late and sleep in. Others must work on certain weekdays. Students who have a lot of chores at home also can't keep up with the demands of class at the same time in a virtual environment. 
Brentwood High School took this matter to heart and created the Crayola Box Plan to include a greater variety of colors that would better fit each student's lifestyle. 
"Students' lifestyles are as unique as the colors in a box of crayons," said Pro Graham, Brentwood High School administrator. 
Belle Rung, Brentwood High School sophomore, thinks that the new plan makes a lot of sense.
"So, I have a job out of school and like, it was hard to come to class when I also had work, you know?" said Rung.
" Now that there's more colors, students can have more balance. Considering every student's situation is way more considerate." 
"It's so much easier to follow," said Micra Soft, Brentwood High School junior. "This new schedule allows me to go to work, go on vacation, and clean my room while still getting a full education!" 
Instead of 3 color groups, there will be 9 in total. Gold and Green students will remain on a hybrid schedule. Teal students will remain fully virtual. The other 6 color groups will be sprinkled into the mix. The breakdown below provides a more complete picture of what the new schedules will look like. 
Teal: Fully remote students  
Gold: Hybrid students attend school on Tuesday and Fridays, and alternating Wednesdays.  
Green: Hybrid students attend school on Monday, Thursday, and alternating Wednesdays. 
Chocolate: Attend school 9 times a year, on the first Monday of each month.  
Cherry: Attend school every day for only 4 hours each day from 9 a.m. to 1 p.m.  
Magenta: Attend school only on Fridays for 16 hours.  
Indigo: Attend school on the weekends from 7 a.m. to 2 p.m. (Saturday and Sunday) 
Silver: Attend school twice a month on the 7th and on the 21st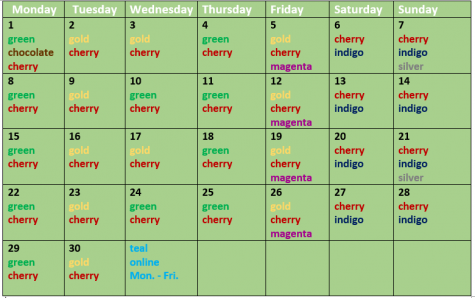 On Brentwood High School's webpage, a poll was posted where students could vote on the plan before it was implemented. Believe it or not, 95% of students chose the new Crayola Box Plan of 9 color groups over the old plan of 3 color groups.  
"The new schedule is 100% less confusing and overwhelming" said Graham. "I believe our working students will find this new plan really helpful. Well, at least the ones who get lucky enough to be assigned the schedule they need." 
*This article is a satire and is not meant to be taken literally.*