Jean-Michel Basquiat's Graffiti Combines Art with Social Justice
You've probably heard of renowned street artist Banksy, but how many of you have heard of Jean-Michel Basquiat? Basquiat gained widespread acclaim for his graffiti art and social justice messages, inspiring the likes of Andy Warhol long before Bansky ever became a household name.
A seemingly forgotten icon of the art world, Jean-Michel Basquiat was born December 22, 1960 in Brooklyn, New York. There are contradicting accounts of his life, but his love for art is the constant throughout them all.
Growing up his mother, Matilde Andradas, encouraged his love for the arts, frequently bringing him to museums and art exhibits. He read everything from French symbolist poetry to comic books.  After recovering from a surgery, he also became particularly fascinated with the illustrations in Gray's Anatomy. These experiences would become the framework for Basquiat's work later in life.
Basquiat's life took a turn at age 10 when his mother was diagnosed as mentally ill and sent to an institution. He went to live with his father and sisters in Puerto Rico, but returned to New York about two years later. His youth was troubled, and he even tried running away at 15, only to be arrested within a week for sleeping on park benches. He returned to his father's home.
After failing at conventional learning, he transferred to City-as School, which was a site for many gifted young artists who didn't adhere well to learning. However, his stay did not last long, as he dumped shaving cream on his principal at a friend's graduation, and promptly dropped out of high school. His father kicked him out after this incident, which meant Basquiat had to support himself at the age of 17.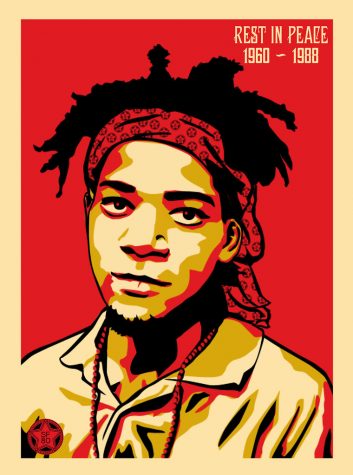 Needing an outlet for his frustrations, Basquiat and his friend Al Diaz began to graffiti, tagging their works with the pseudonym "SAMO," a shorthand for "same old s**t." Their works included cryptic messages and visuals, expressing themes of anti-government, class struggle, racism, and religion. Their work gained public attention, but Basquiat still needed to make a living. He sold postcards and clothes he designed to get by.
One day, he took a leap of faith and sold one of his postcards Andy Warhol, who would later become a good friend and artistic partner to Basquiat. After Diaz and Basquiat split over creative differences, graffiti began to appear with the words "SAMO IS DEAD," and Basquiat's solo career would take off. He was featured in various art exhibitions, locally and internationally. He made friends with famed artists such as Keith Haring and Julian Schnabel, and his work started selling faster than ever.
Basquiat became one of the faces of the neo-expressionist artistic movement in America. He also experimented in acting and musical ventures. But this did not come without struggle. He worried that he had become a gallery mascot, a fresh face for the masses and a token person of color among the industry.
Basquiat started to isolate himself as he climbed the social ladder. He found that the art world was one dominated by racism, exploitation, and societal pressure. Especially after the death of Warhol, he relied more and more on drugs to cope. He finally died of a drug overdose on Aug. 12, 1988, in his Manhattan studio. He was just 27.
After such an end, what is his legacy? Well, Basquiat's every work was dedicated to bringing society's problems to light. While very vocal about these issues personally, his work focused more on letting it speak for itself, calling on society to reflect on these paintings and their meanings, and by extension to reflect on themselves.
His works centering around police brutality are some of the best examples. After several injustices in the 80's, his pieces pointed out the hypocrisy of the silence of black policemen, and the defamation of the nation through allowing these actions. But ultimately, he painted for himself, a personal expression of the world around him. In that context, he was successful.
To the art world, however, his impact was much more significant. As previously mentioned, he was at the head of the Neo-expressionist renaissance. He helped bring graffiti like stylings and mixed media expression into the mainstream. Modern American pop art, expressionism, and other abstract stylings are heavily influenced by his work just as much as they were by the big names we hear like Andy Warhol and Keith Haring.
In her article "The Undefeated 44 Most Influential Black Americans in History," author Jill Hudson writes, "Without Basquiat, there'd be no Banksy." Artists like Banksy thrive off of the inspiration from works like Basquiat's. Basquiat deserves just as much recognition for his major contributions to modern art.
Being a black American in a white-dominated industry was hard, but he was one of the pioneers that would lead to more acceptance and tolerance in the field. Additionally, his use of graffiti and mixed media helped destigmatize graffiti.
Once associated with racist depictions of "thugs," graffiti could now be seen as a popular form of expression and art style derivative of black city culture. We'd see with styling and pop culture trends in the 90's, graffiti was a staple print and aesthetic feature.
Jean-Michel Basquiat was a black pioneer of modern American art, but he gets lost in the sea of white creators we idolize. It is important to recognize the black influences in the things such as art that make up such a big piece of our national identity.
Many of the issues he presents in his work are still ongoing, and now it's our job to do creators like him justice, and take to our own modes of expression to make a difference.
Works Cited:
Gotthardt, Alexxa. "Basquiat Left School at 17-and Made New York Museums His Classroom." Artsy, Artsy, 1 Dec. 2017, www.artsy.net/article/artsy-editorial-basquiat-left-school-17-made-new-york-museums-classroom.
Hudson, Jill. "The Undefeated 44 Most Influential Black Americans in History." The Undefeated, The Undefeated, 28 Feb. 2020, theundefeated.com/features/the-undefeated-44-most-influential-black-americans-in-history/#jean-michel-basquiat.
"Jean-Michel Basquiat." Return on Art, Return on Art , returnonart.com/blog/jean-michel-basquiat.
Laing, Olivia. "Race, Power, Money – the Art of Jean-Michel Basquiat." The Guardian, Guardian News and Media Limited, 8 Sept. 2017, www.theguardian.com/artanddesign/2017/sep/08/race-power-money-the-art-of-jean-michel-basquiat.
Rosenberg, Bonnie. "Jean-Michel Basquiat – Biography and Legacy." Edited by Lewis Church, The Art Story, The Art Story Foundation, 22 Nov. 2011, www.theartstory.org/artist/basquiat-jean-michel/life-and-legacy/.
Steel, Rebecca. "The Art of Jean-Michel Basquiat: Legacy of a Cultural Icon." Culture Trip, The Culture Trip Ltd, 2 May 2014,