Satire: College Board Cancelled
Amid fears of massive privacy violations during online AP testing, students create a social media movement to cancel College Board.
College Board is an organization that provides opportunities for students to earn college credit through the administration of Advanced Placement (AP) testing. College Board is also responsible for distributing and grading the SAT, PSAT, and ACT tests. 
Last year, College Board had to find a way to administer their national Advanced Placement (AP) exams while students were home from school. It chose to provide the exams online, but utilized plagiarism detection software to detect cheating. It also shortened the exams from three hours to 45 minutes, and mandated that all students around the world take the exam at the same exact time.  
However, College Board is not convinced it went far enough in ensuring that students could not obtain answers during the digital testing. As the pandemic is still ongoing, College Board announced several changes to the structure of the exam this year. 
During the exam, College Board is planning to access cameras on personal laptops and mobile devices to keep tabs on students and to deter cheating. It announced a partnership with the FBI and U.S. Military to listen in on devices and ensure that students make no plans to work together.  
"How are we supposed to know if a student is rewording information from an outside source?" said Coppy Kat, director of the organization. "We need to recreate a classroom experience in the rooms where students should feel most comfortable; one that includes all the rush and anxiety of a testing location." 
Reportedly, if a student is found guilty of cheating during the exam, the FBI will pull up to the student's home, kidnap the student, and take them to a secret location for questioning. The student will also automatically be enrolled in military school to learn why cheating should never be tolerated.  
The added stress and anxiety of such privacy violations has caused students to cancel College Board with social media petitions. #CollegeBoardCancelled has been trending for the past 6 hours on Instagram with no signs of slowing.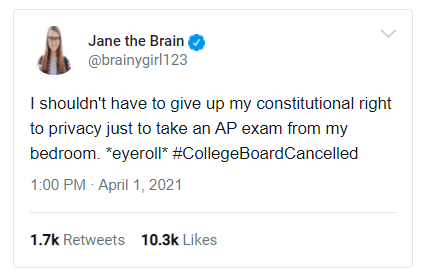 "The kids in these classes have been getting a free pass and they don't even know it!" said Smar Ty Pants, a former AP student. "It's not right that I had to prepare a year's worth of work to sit in a desk and take the same exam they take from their beds! Hello, beds are way more comfortable! Give me a mattress and then we'll talk." 
CollegeBoard is now taking steps to address the student complaints and eliminate possible lawsuits over privacy violations. Collegeboard has decided to suspend AP exams temporarily and is considering alternatives, including a mandatory 27-page thesis essay. 
*This article is a satire and is not meant to be taken literally.*