The Return of Y2K, Baggy Pants & Shoulder Bags
Have you jumped on the Y2K aesthetic bandwagon? This year, a lot of 80's, 90's and early 2000's (as well as some trends dating even further back) clothing pieces have made their return to the fashion world.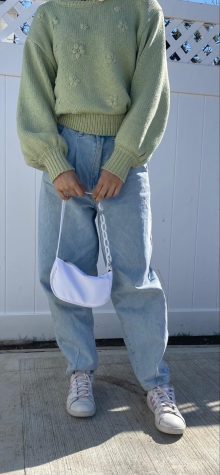 The first trend that we're going to be seeing this spring are puff or balloon sleeves. Dramatic sleeves are a very simple way to make a basic outfit a little more fancy. This look dates back to the Victorian Era but raved the runways back in the 80's and is making another comeback this year to spice up your outfit!
Another style that will be seen this upcoming season is ribbed knitwear. Ribbed knitwear is perfect for when it's going to be breezy and you want to be warm, but fashionable at the same time. 
Shoulder bags can add a lot to a plain outfit. They started to become very popular in the 1920's, shortly after the suffragette movement, and there was a trend for bags that were sleek, androgynous, and that were held close to the body. 
"I think these bags are really trendy and depending on the outfit, can look really good. Personally, I don't like how they look on me, but I've seen other people rocking them and I think it looks amazing!" said Zahra, a junior.
Simple basics are also back in style. A plain, white, body-hugging shirt is never going to go out of style, and can look fancy or casual depending on how it's styled. This is one trend that everyone can get behind, as everyone has a black, white, or nude colored shirt in their closet, as well as other basics, like turtlenecks and jeans. 
Loose bottoms were another trend that were seen in winter and even the end of fall of 2020, and one trend that won't be dying down any time soon."
"Personally, I think the baggy pants trend is very cute; I think it even helps people with body dysmorphia and others who aren't comfortable wearing tight clothing" says Sam Iglesias, a sophomore.
Whether they're high waisted or low waisted (which is up to you, what you're comfortable with, and what looks best on your body type), loose jeans and pants have made a comeback! This trend was absolutely HUGE in the 90's, and most of our parents remember wearing these all the time. 
As for colors that will be more than popular this spring, you can expect to see a lot of bubblegum pink. This color has been seen in many looks for Spring 2021 runway shows. Lime or pastel green and tangerine are very fun and sweet colors that will be trending this upcoming season as well.
While many people are quick to jump into trends, buyers should be careful of what they buy and where they buy it from, as fast fashion trends can lead to cheap, low-quality clothing. It's important to buy pieces that you know you will use and that make you comfortable, even after they "go out of fashion."