Girls Varsity Fencing Team Counter-Attacks Obstacles
As one of the first sports teams to begin their season amid this new Covid normal, the pressure was on for the Girls Fencing Team to demonstrate that the rules and regulations could be followed during a shortened season.
Six feet we were used to; fencing is already done at a distance with a mask on. However the lack of tournaments, counties, and spectators proved to be a challenge. All eyes were on the team to set the example for other sports seasons to come.
The first few weeks were brutal. There was no chance to be conditioned with pre-season workouts. We were launched straight into the middle of the season. With our first meet on the horizon, the girls decided that our goal wasn't only to win; it was to leave all our frustrations behind and put our best self forward on that strip.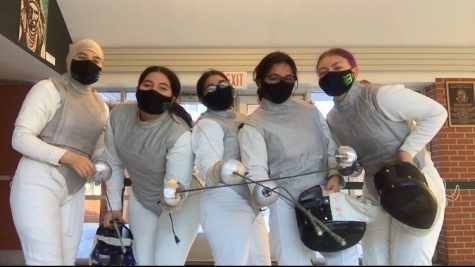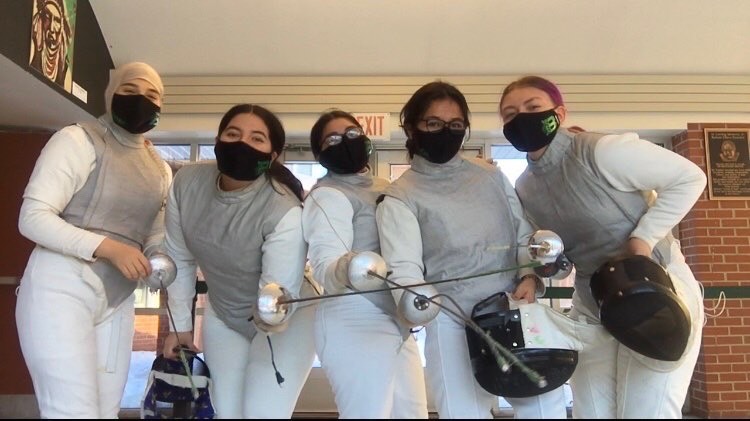 Remaining positive was difficult without the usual motivations of counties or the usual supporting visits of our alumni at our meets. Physically, the sport is as demanding as it gets but mentally it is an even larger challenge. If there's anything that our coaches emphasized to us, it was that communication is extremely important in a world where everyone is facing personal strife.
"I was blown away by how everyone stepped up to the plate and worked hard to make improvements, to help each other, and stay safe during the shortened season," said Alison Finfrock, Girls Varsity Fencing coach. "Even with all sorts of weird new changes to make the season possible, our team showed strength, commitment, and adaptability."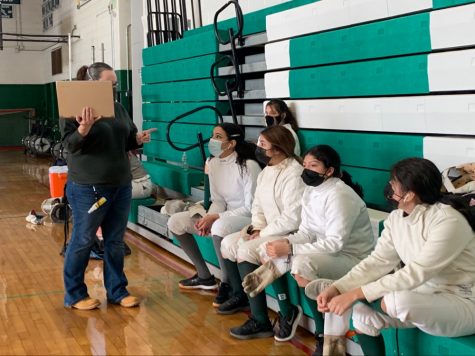 Improvements were in demand. There was no time between meets to mull over mistakes, you had "to take what you were given and create what you want" (a common mantra from Boys Varsity Fencing Coach Corona). With hard work, each meet demonstrated that the blood, sweat, and tears were worth it.
The girls were on their way to the playoffs. It was key to build off of the spark of momentum that had risen.
"At first it was a struggle, considering that it was my first year on the team. I think the biggest struggle was feeling like I was fencing in a sauna as we had to wear two masks, the medical mask and the fencing mask. However, I was quickly accepted into the fencing family, I learned that the team is close knitted and constantly tries to find the positives in the midst of this pandemic," said Queiri Rubi, a junior saber fencer.
"Seeing us excel so well and implement the skills we practiced was amazing. I'm incredibly proud of everyone…especially the girls who made it to the playoffs," said Finfrock.
Unfortunately the girls could not finish their season as they got quarantined right before their last meet. However, they are extremely thankful that they could even have a season at all. Gratitude is all they feel, especially for the parents, coaches, and staff that made their season possible.