Planning for Prom 2021
Brentwood High School's prom planning committee navigated ever-changing pandemic guidelines to successfully host the 2021 senior prom at Crest Hollow Country Club.
This year, through a lot of hard work and dedication, the senior class and prom committee, led by Mrs. Rivas and Mrs. Cereola, were able to host a prom for the seniors on June 4 at Crest Hollow Country Club. Members of the newspaper club interviewed the supervisor of the senior class, Mrs. Rivas, to gain insight on what prom planning looked like this year.
1. How was your experience planning for prom this year in regards to Covid-19?
It was definitely stressful because there were so many rules in place. At first, we weren't sure if a Prom was possible with the 50 person capacity, but on March 15, everything changed. As of March 15, we were allowed to have 150 students in attendance with social distancing in place, and that included dancing. They were going to tag the floors to space out boxes for students to dance safely. We decided to do two proms so that we could at least invite 300 students, and then in May another guideline changed and we were allowed to have 350 people at one event. So now we are back to hosting one prom.
2. Do you think you have succeeded in planning for prom this year?
Yes, we believe that we were very successful. Not many schools are hosting a prom this year due to the guidelines, or they are having it outdoors. This involves more planning and more money. Our students will be able to have an elegant prom at the Crest Hollow Country Club.
3. How do you think students will react to the new Covid protocols for this years event?
Rules are changing daily and things are looking up, so we think they are going to have an amazing Prom with very few limitations.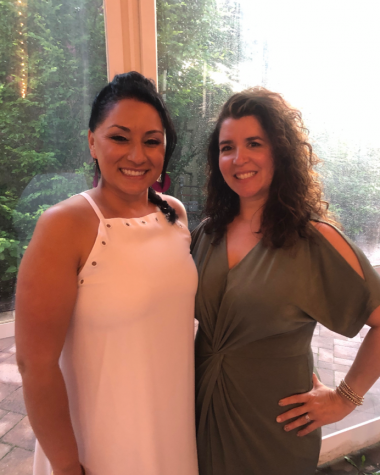 4. What are your biggest concerns about having a close to normal prom this year?
We are so excited for them to celebrate and our only concern is to always make sure that they have a blast.
5. How is the interaction between the prom committee and the graduating seniors?
For the year we've had, we did the best that we could do. The prom committee brought everyone together and did a lot of brainstorming. It has paid off immensely, and now we are successfully having a prom.
6. Seeing that you manage activities for the senior this year, what was the most challenging task?
The most difficult piece was fundraising. We weren't allowed to stay after school at the start of the year, and we lost out on opportunities like our routine pizza sales and bake sales. Because we weren't able to discern if suddenly people would need to quarantine or if the school would keep shutting down around the holidays and going remote, our big Valentine's day sale was cancelled. We didn't want to buy all the goodies and then suddenly have to stay home for virtual learning. That would lead to not only not being able to raise money, but actually losing money in sales.
Last year, due to the Covid-19 pandemic, seniors didn't get the chance to have a prom to celebrate one last night with all their friends and classmates. We can thank Ms. Rivas and Mrs. Cereola for ensuring that prom wasn't missed again!