AFJROTC Cadets Host First Falcon Bowl with SCPD Officers
Officers and cadets played a game of softball and participated in challenges with army recruiters.
AFJROTC Cadets held a softball game with Suffolk County Police Department from the 3rd and 4th Precinct this past Saturday, October 16.  
The officers and cadets also had a series of challenges organized by Army Recruiters. Brentwood High School Alumni were also present and helped with the organization of the event along with fellow cadets and JROTC instructors. 
"The softball game was something positively motivating, especially since we never had something going on with the community since COVID hit," said Cadet Captain David Pierre-Louis. 
The cadets played two games of three innings each. Both teams were spread out between officers and cadets.  Even though some cadets had to take the PSAT in the morning, they managed to fix their schedule to join the game at 11 A.M.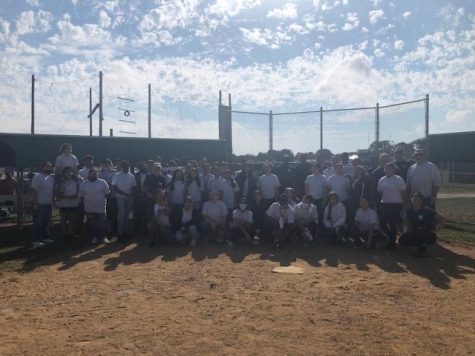 Some of the challenges given by the recruiters included "Squat with a Bag" where cadets tested their endurance by squatting and carrying a bag, Push-up and side-plank challenges as well, where they had to do as many as they could under one minute. Those who participated received gifts like raincoats, and lotion from the Army recruiters.  
"It was a bridge-building event within the community," said SMSgt.
Hanna, AFJROTC Aerospace Instructor. SMSgt. Hanna and Leadership Instructor Msgt. Perez made sure that everyone was well-fed during the event by cooking hamburgers and hot dogs.  
Cadet Brian Hernandez felt like the exercises and challenges were a good way to keep the audience participating in some way. Cadet Hernandez is also a first-year cadet who had the opportunity to meet his fellow cadets from other class periods and socialize with them.  
These types of events are great for new cadets to learn more about the AFJROTC family. As an outsider, you won't be able to experience these types of events firsthand. 
Senior Cadet Emely Vasquez came up with the idea of getting in contact with the SCPD through Police Officer Eiffel Ramirez who works with the Explorers' Program to have the event all set up.  
"I think the police officers should be more involved in our community, not only for our safety but also so we can be more comfortable around them," Cadet Vasquez said.  
Cadet Vasquez was selected Player of the Games and was awarded a signed game ball from the SCPD Officers. The AFJROTC Program is grateful for all the help and support provided.