AFJROTC Falcons Assist Brentwood Family in Need
After an Oak Park family lost their home in a house fire, the Fighting Falcons contributed donations such as hats, gloves, and shoes.
In the third week of October, an unfortunate and unexpected situation happened to an Oak Park family. The Brentwood family had their home destroyed by a fire. Thankfully they are all safe and healthy, however all their belongings were lost in the incident. 
Ms. Catandella, Principal of Oak Park Elementary, reached out to the Brentwood Community for donations. While working on their yearly Falcon Family Winter Coat Drive where cadets collect donations such as children/adult size coats, hats, gloves, shoes and other apparel for students in need, the Fighting Falcons stepped in to help.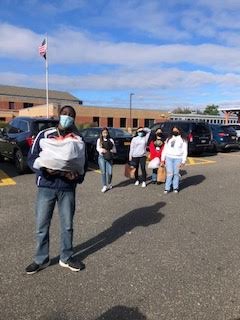 "It is our core value that we uphold Service Before Self, It is with pleasure that we give back to others," said NY773 Deputy Group Commander Cadet Captain Allyson Benitez.
The donations came from thoughtful Brentwood High School students, families and staff. SMSgt Hanna contacted Ms. Catandella to inquire if the family could use any of these items, and in less than 24 hours, cadets packed, stacked and delivered several bags/boxes to Oak Park Elementary.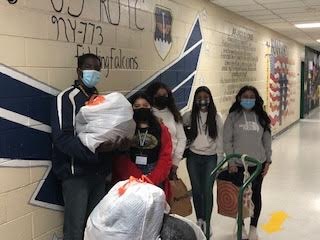 "It feels satisfying knowing that I could do good for my community," said NY773 Cadet Staff Sergeant Zaire Chandler, who helped with the delivery of the donations along with other cadets. 
Oak Park teachers Mr. Melgar and Mr. Abair were responsible for the collection of donations. NY773 Cadets Allyson Benitez, Lilly Aponte, Valentina Tomaylla, Lisa Pacheco and Zaire Chandler assisted the task by loading the truck full of donations that were delivered to Oak Park. 
"There is no higher honor than selfless service, to work for the common good is the greater deed," said AFJROTC Instructor SMSgt. Hanna