Dress Code Debate: Students Voice Concerns at Town Hall Meetings 
Recently, controversy has erupted over the high school's dress code policy, leading to small hallway protests that led the Superintendent to host a series of town hall meetings with students and parents.  
Many students and staff in Brentwood High School think that the dress code should be kept as it is, while others think it unfairly targets certain subsets of students and is a stressor for those who receive small infractions. 
Three Town Hall meetings took place between Tuesday, October 5, and Thursday, October 7, to address student concerns regarding the dress code. These town hall meetings were held after school in the Sonderling Auditorium. Among those in attendance were Superintendent Richard Loeschner and Assistant Principal Dashana Dulin.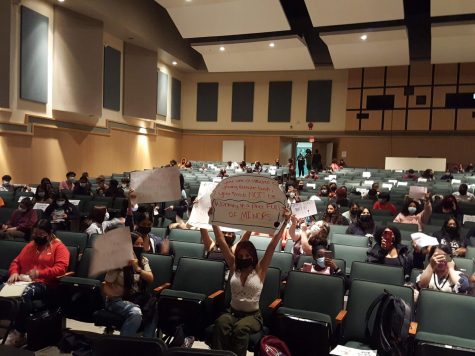 According to Mr. Gesseck, assistant principal of the Ross building, the town hall meetings were an outlet for students to voice their grievances so that real dialogue could occur between the students and administrative team
"They obviously wanted to be heard and they deserved to be heard, and we felt that [the town hall meeting] was an interactive form where we could hear all opinions," said Mr. Gesseck.  
"Rather than talking to each other we could talk with each other. We felt that that would create more of a dialogue than a monologue about it." 
At the town hall meeting, students expressed that they felt anxious or embarrassed when called out for violating the dress code in public. Some students who had already received infractions this school year mentioned how they think about the incident for the rest of the day, which distracts them from their learning environment. 
Some faculty members showed favor for the dress code, which still leaves some amount of room to allow students to wear what they want. Unlike a school uniform, the dress code allows students a sense of choice and expression while maintaining a professional environment.  
"From what I understand, I believe that the dress code is pretty fair," said Mr. Greb, an AP Environmental Science and Earth Science teacher in the Ross building. 
Aside from these benefits, a dress code also makes getting ready for school every day far easier. A strong dress code in school's settings may further aid in reducing social conflict and peer pressure that may be associated with appearance and help students find a sense of identity with how they want to dress.  
However, other students like Kimberly Donis, a junior, do not maintain this idealistic view of the dress code policy. Among the biggest grievances is that the policies unfairly target certain types of people. 
According to Donis, the dress code is too restrictive, "especially towards girls," and makes them feel like they are "losing a part" of themselves.  
During the last town hall meeting, a student also mentioned the issue of girls of bigger sizes showing too much cleavage. Other female students mentioned the issue of a lack of variety in their wardrobes. 
"It's very selective when it comes to certain people that is required for," said Rachel Jean Charles, a junior at BHS. "People that have a smaller frame aren't noticed as much."   
Jennifer Ayala, a junior, says that the dress code "puts more emphasis on trying to cover the female body than the male body."  
Ayala also mentioned that the amount of control placed on female attire feels "almost suffocating." 
While communication has been ongoing, there have been no changes to the dress code policy to date. Whether the dress code will receive any modifications this school year remains to be seen.