Students Find One-Way Hallways a Major Obstacle
The one-way hallways were a very methodic way to keep students as far away from each other as possible while moving from class to class in the height of Covid. This year, however, they're causing many problems because of the amount of students who are back in the building.
 "The high school administrative team put a lot of effort and thought into the creation of the one-way hallways when we had to produce our re-entry plan for the 20 21 school year," said Mr. Gesseck, assistant principal. "This year, we modified the hallways as much as possible while still trying to adhere to social distancing guidelines."
In spite of the efforts of those in charge to help students and staff maintain social distancing, most students have encountered problems with the one-way hallways as they traverse between two school buildings throughout the day.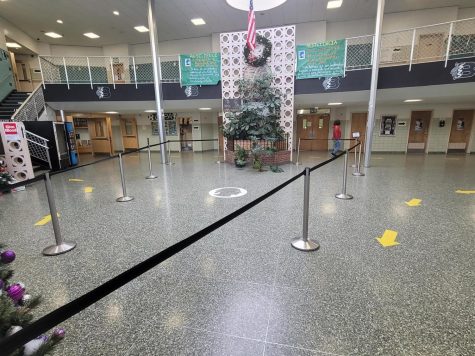 "For classes that are close to each other, it's not that big of a deal – but if you get to a longer distance, then it becomes a problem. Also, the people are not helping – they're too slow," said Kenny Ballester, a senior. 
The one-way hallways limit student movement by making students take longer routes to get to class sometimes. 
"The one-way hallways definitely restrict the movement of students and force them to go a certain direction. This compared to the normal year lessens the choice that students have to get to their classes…" said Jessica Hsu, a senior.
Even more frustrating, the one-way hallways are responsible for student lateness. 
"Students come late, and teachers blame student accusing them of doing wrongful actions," said Kristoffer Flores. 
Although this year it seems that the one-way hallways have become problematic, there is a window to change. 
"We continuously re-evaluate the hallways and look forward to the day when we no longer have to have one-way directional hallways," Mr. Gesseck said.