Twin Pine Third Graders Participate in Science Class with High School Students
On Nov. 23, students in Ms. Cabrera's science class worked with amazing third graders from Twin Pines Elementary School. Mrs. Cabrera's former student, Mrs. Maldonado, is their third grade teacher.
Students completed an activity from NGSS (Next Generation Science Standards) called CER (CLAIM EVIDENCE REASONING). They learned about CER with a very funny video clip from the movie, "The Incredibles," and made slime.
A few kids even showed Mr. Callan what they learned and made slime for him. They also told him his suit looked handsome.
The students from Twin Pines were fun to talk to and had a lot of questions about the school. One of the questions I found funny was from a boy who asked, "What's a hall sweep?" when he heard Mr. Callan make an announcement about one over the loudspeaker.
At the end of the lesson, I asked them if they wanted to take a picture and we did. They were saying "Papparazzi!" after Mrs. Cabrera mentioned it. When they were about to leave we gave them a shirt and Mrs. Cabrera  told them to keep the lab coats, and the safety goggles and, of course, the slime.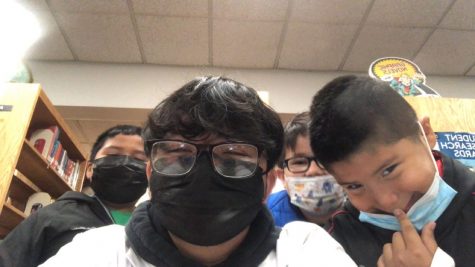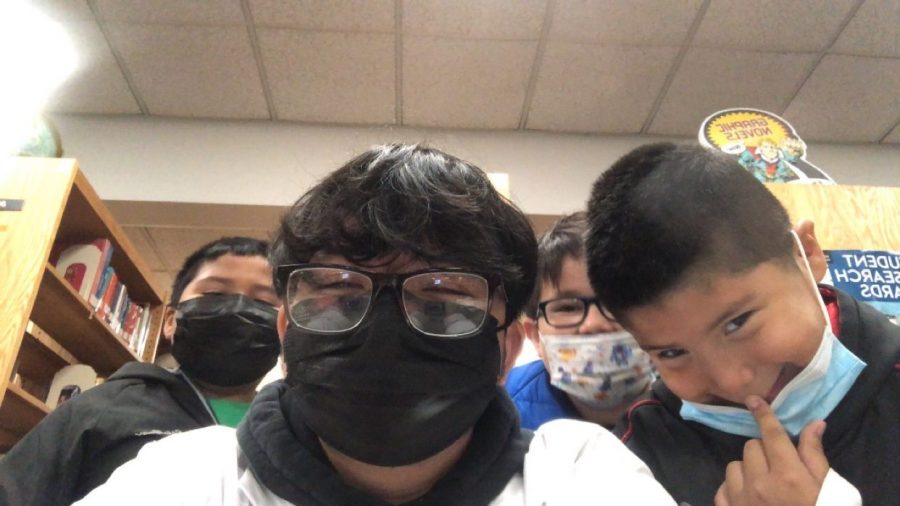 All of the kids were from different countries like Colombia, Mexico, and El Salvador. What I admired about them is that they are not afraid to try even if they don't know how to say things perfectly in English and they really learned CER in the lesson. They ask and answer questions and listen very well in spite of their language barrier.
While making the slime, I was surprised at how well we all worked together. I am a member of MUNDOS (Many United Nations Diversifying Our Society) and we decided to get all the kids a gift this month for Christmas. We ended up buying them two gifts each and a candy cane.
They also sent us a Dunkin Donuts gift card from their teacher. I really loved being part of the lesson and our MUNDOS Christmas Act of Kindness and I can't wait to see them again in the future!
As students were waving goodbye on their way to the bus, they excitedly shouted, "We made new FRIENDS!''