BHS Hosts Annual Project Semicolon Event
On Wednesday, March 16, 2022, Brentwood held their annual Project Semicolon event from 2:00 p.m. to 5:00 p.m. in the DiPietro center. The event was open to all sophomores, juniors, and seniors.  
The Project Semicolon event consisted of a wide range of hands-on activities for the students to engage in. Students were assigned different groups in which they had a set schedule of the time they arrived at each station and moved onto the next activity.  
Stations included: Zen Den relaxation in the orchestra room, Open Mic with music, singing, poetry along with a sharing of thoughts and stories in the Puleo Lecture hall, Kind Words from a Stranger art activity in the art room 1609, Yoga and Meditation in the Ross library, Drums Alive in the DiPietro lobby, and Aromatherapy with tattoos and snacks in the music hallway.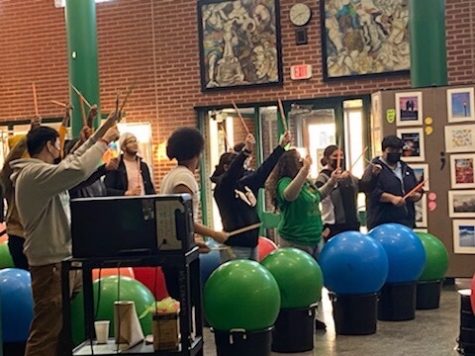 The inspiring event ended with a closing Re-cap session in the Puleo Lecture Hall. The project's main goal was to bring together young teens who are facing similar issues and show them that it is normal to go through tough times and that they aren't fighting alone. It also greatly emphasized on showing the students different ways to help relieve built-up stress and tension as well as teaching them how to care for themselves and their mental health. 
"The event was a fun experience for everyone that participated along with those who were onlookers," said Litzy Alvarez, a junior and the vice president of the Medical Society this year. "There was a little bit of something for everyone. We had a variety of activities that fit the level comfortably for each person and in the end, people enjoyed one thing or the other." 
Project Semicolon is a non-profit movement dedicated to promoting hope to individuals who are struggling with a variety of mental health issues such as depression, suicide, self-injury/harm, and different forms of addiction. This year's Project Semicolon event was organized primarily by a wonderful teacher at the BHS, Sharron Littman, with the help of Mrs. Kelly, Mrs. Goumba as well as Mr. Rizzuto who also brought Tri-M members to the event. 
"I enjoyed the event overall as it gave me a small break to socialize with unfamiliar faces," said a sophomore attendee. "The event presented to students new and unique ways to vent frustration and spend their time, [which is] in my opinion a great benefactor to bettering overall mental wellness in schools, and I am sure it did good to those who participated as well." 
"I believe the event was a major highlight for the students in our school because it allowed people to come and interact with one another and speak their minds and vent about the state of their mental health," Alvarez said. "I really enjoyed being a part of it and I just saw all the joy and inclusivity of the event that I know everyone else saw and felt as well."