Badminton Team Celebrates First Senior Night
On May 18, on their very first senior night, the Brentwood Badminton team obtained their third victory of the season with the girls taking a 7-2 win and the boys closing in with a 5-4 win against Patchogue. Senior Bakhtawar Zahid also won in singles. 
In its inaugural season, the Badminton team players were quickly acquainted with one another and were able to develop a close bond within weeks of practicing together. To the members, huge improvements were made physically and mentally throughout the season.  
The seniors gained new experiences and were able to meet new people that totally changed their senior experience.
"I met lots of new people, and everyone was really sweet," states Melissa Buitrago, one of the graduating seniors on the team. She thinks back on all the new friendships she has made and is grateful for joining the team in her very last year of high school.
"I never thought we would be that close. It felt like a whole different family. I will miss the people, the sports and high school itself," Buitrago said.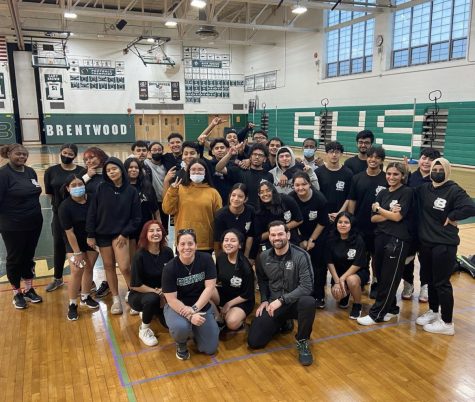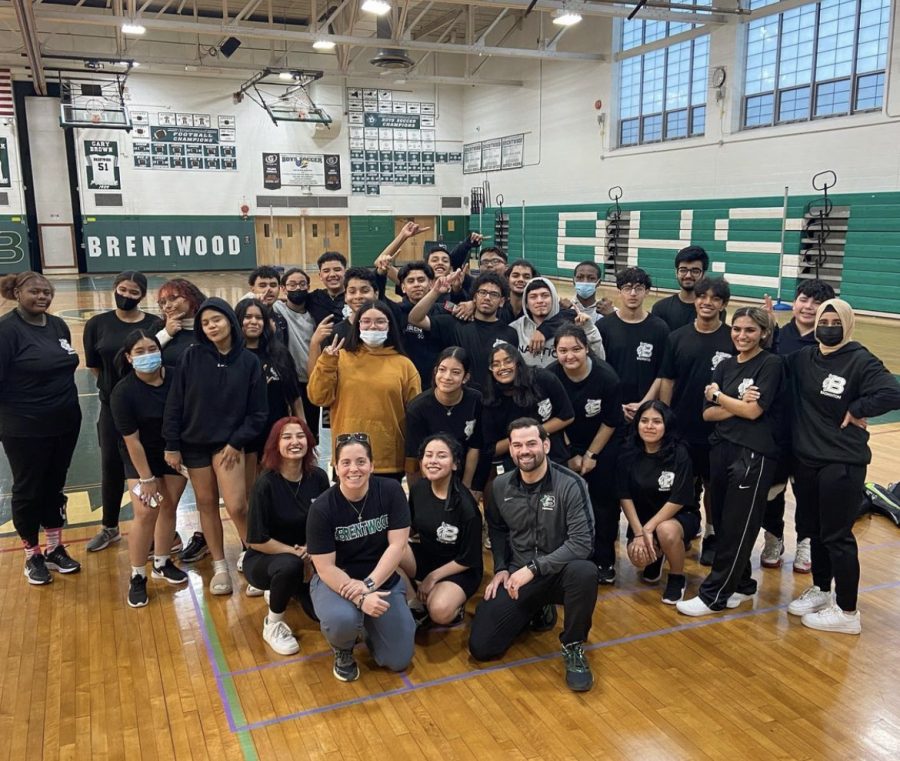 Buitrago also saw immense improvement in her skills with constant practice and effort.
"At first, I couldn't serve at all during tryouts, but now I have learned all these techniques like backdrops and smashes." 
Bakhtawar Zahid (BZ for short) claims that she loved games the most since "so many people come to watch us" and she was able to cheer for her teammates. She felt a special excitement in the air on these occasions. 
BZ also expressed how much she will miss the team and Coach Di Maria's iconic lectures during games. She remembers her most repeated phrase throughout the season, "BZ, move your legs!!," every time she saw BZ slowing down during practices or games. 
The teammates stated that being part of the team helped them create new friendships and support each other in practices and games. They would often help each other with techniques and practice together in groups to point out each other's weaknesses and strengths.  
The impact the seniors had on their teammates is demonstrated by the responses of the younger players, who describe the seniors' support as "mentally and emotionally" influential throughout the season.
"They fit perfectly with the team," said Cindy Carranza, a sophomore who joined the team due to her previous experiences in tennis. She felt that being part of the Badminton team was akin to being in a "true family" through all the ups and downs in the season.  
"I feel that they came as little mentors especially since this is their last high school year," Jasmine Rivera, a junior, adds as she considers how much of an impact the seniors had on the team.
Their excitement to be part of the team was shown even in practices and in their desire to become better every day.
"They really took pride in being the founders of the team," said Badminton Coach Di Maria.
 She witnessed firsthand the team's passion and dedication when it came to playing, and how evident it was in their faces every time they lost a game that they knew they could have won.
"It just showed how much they cared, and how much they want to get better and good at each match and practice," Di Maria said.
The team's true efforts and commitment were showcased in all of their games, even the ones they didn't win.
"We have very good kids and that's one thing I am proud of," said Coach Crespo, who along with Coach Di Maria, helped train the Badminton team and guide them through their first year. 
"We definitely have potential," Coach Di Maria says, "Their expectations now are higher, and we are hoping we can get very far to where we can go to County Champs, League Champs…."
The team even played in the County Tournament for Badminton on May 24, where the top level three single players as well as the top two for doubles compete for a county champion title. Shazeem Taiyab, a sophomore, earned all-league for Boys Singles while junior Jasmine Rivera and 8th grader Sabira Taiyab earned all-league for Girls Doubles. 
"The ceiling is very high for Brentwood," Coach Crespo said. "With the group of kids that we have, [we have] a good building block."
Whether it is normal practice or an important match, the team consistently displayed their best qualities that turned the Badminton team into what it is today. 
As the senior night ends, the players share their last moments with the seniors and as a whole team.
"I wish them luck on their future endeavors," Coach Crespo said. He declares that they will be most missed the next season.
"Some of them hold leader qualities and characteristics to set the road for the upcoming underclassmen and athletes," Coach Di Maria said.  
The Badminton team has a long way to go, but with the strong foundation built by its diligent new members, the team is surely set for future success.