Six Must-Read Books for This Year's Independent Reading
The start of a new school year signifies the start of new goals, opportunities, and of course, the return of reading books. However, for many, reading books in class may seem like total torture, often getting bored easily by books that are not entirely enjoyable or fun.  
This year, the English Department will be conducting its mandatory independent reading projects for sophomores and juniors, where students will have the freedom to choose whatever book they'd like and read solely for fun and entertainment.  The English Department aims to help students strengthen their reading skills while also instilling a love of reading for its own sake.
But what if you absolutely have no idea what to read? It can be quite difficult or overwhelming knowing where to start when there are thousands of books out there at your fingertips. That's why, below you will find six different book recommendations that can get you started. 
Happy reading to everyone!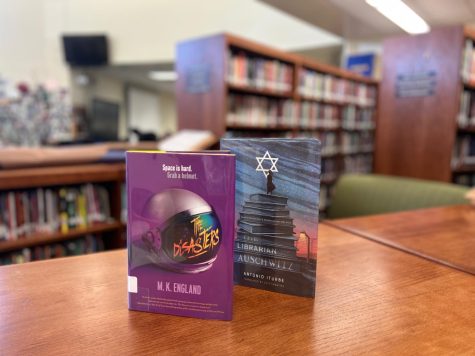 #1: The Bones of Ruin by Sarah Raughley 
If you love historical fantasy, then you will love this book. Set in Victorian London, the story follows an African tightrope, Iris, who is haunted by her unnatural power and with no memories of her past.  Worst of all, she cannot die.  
She seeks to determine who she really is, but that mission gets more complicated when she meets the Adam Temple, a member of a mysterious order called the Enlightenment Committee. Adam seems to know much more about her than he lets on, and offers her to join the Tournament of Freaks. This is a competition made up of vicious fighters with supernatural abilities. Should she win the competition and be named the champion, he will reveal the truth about her identity.
#2: The Librarian of Auschwitz by Antonio Iturbe  
If you like reading about WWII and the experiences of survivors and victims, then this book will interest you.  
Dita is a fourteen year old imprisoned by the Nazis at Auschwitz. Taken, along with her mother and father, from the Terezín ghetto in Prague, Dita is adjusting to the suffering of life in a concentration camp. When Jewish leader Freddy Hirsch asks Dita to protect forbidden books in the ghetto from the prison guards, she agrees and swears to protect them with her life. Dita becomes the "librarian of Auschwitz" and keeps hope alive in a place where many are hopeless.
#3: One of Us is Lying by Karen M. McManus  
A story filled with mystery, lies, and murder, this is a novel perfect for those who seek to solve crimes.  
On a normal Monday afternoon, five students at Bayview High into detention; Brownwyn, a Yale-bound who never breaks the rules, Addy, a beauty and picture-perfect homecoming princess, Nate, a criminal who is already on probation for dealing, Cooper, an athlete who is an all-star baseball pitcher, and Simon, an outcast who is the creator of Bayview High's notorious gossip app.  
Out of the five students mentioned, Simon never comes out and is found dead. His death wasn't an accident, however. He died in the same room with the other four students, just a day before he posted juicy reveals of these same students on his gossip blog.
This story will leave you guessing how far one would go to protect their deepest secrets.   
#4: I Kissed Shara Wheeler by Casey McQuiston 
This is a queer romantic comedy for those who want a more laid-back book to simply chill out with.  
After having moved home with her moms, from Southern California to Alabama, Chloe has spent the past four years surviving high school life at a Christian school. The only thing that's kept her going is the idea of becoming the Valedictorian. Her only rival is prom queen Shara Wheeler, miss popular and the principal's daughter.
But a month before graduation, Shara kisses Chloe and suddenly vanishes.  Chloe is determined to hunt for answers over her disappearance and finds out there are two more girls that Shara has kissed before. They band together, following secrets revealed on monogrammed stationary, to try to find Shara and learning that sometimes to get what you want, you have to break the rules.
#5: Set Fire to the Gods by Kristen Simmons and Sara Raasch 
For fantasy and world-building lovers, this book will leave you wanting for more.  This fantasy story depicts two warriors, Ash and Madoc, who must decide where their loyalties lie as an ancient war between immortals threatens humanity.  
Ash, who descends from a long line of gladiators, vows to avenge her mother who died in an arena by overthrowing her fire god.  Madoc grew up fighting on the streets to pay off his family's taxes. He hides a dangerous secret, an elemental gift that hasn't been seen in centuries.  
#6: The Disasters by M.K England  
A novel where The Breakfast Club meets The Guardians of the Galaxy, this sci-fi adventure is full of high-stakes action, subversive humor, and underdogs becoming heroes. It is perfect for those that love outer space and galactic adventure, with a hint of humor and extensive adventures.  
The novel starts off with a pilot, Nax Hall, who has a history of making poor life choices. No one is surprised when he gets kicked out of his elite academy in less than twenty-four hours. Yet, his trip to Earth gets cut short when a terrorist attacks the Academy.  
He and three others barely manage to escape, but at the same time, they are only witnesses of the biggest crime in the history of space colonization. Together, the group embark on a journey to deliver the truth about what happened.