Annual Holiday Tree Lighting Emphasizes Spirit of Giving
On Friday, Dec. 9, the Brentwood High School held its ninth annual tree lighting ceremony. From 6:00 p.m. to 8:00 p.m., the night was alight with holiday colors and cheer.
During the event, the tree lighting committee raised hundreds of dollars for victims of the Puerto Rico hurricane. They also collected many nonperishable food items.
Members of clubs, community organizations, leaders, performers, faculty, and students joined in on the festivities. It was truly a magical way to ring in the holiday season.
Some of the clubs and organizations that helped this event come to life are COPA, Student Advocates, Tri-M, Leaders of the Future, the Leadership Club, Craft Club, the Chamber Choir, Interact Club, and other several honor societies.
At the event, there was a photo booth where families and friends could take pictures. Small children could take photos with Santa and the Grinch while listening to Elsa and Olaf perform "Let it Go" at the karaoke station.
There was also an area where children could create their own
snowflakes, a spot where children could write letters to Santa, and a petting zoo with a giant pig, a goat, and a donkey. Bubbles surrounded the visitors, giving the appearance of snow throughout the evening.
Families could take part in games like cornhole, ring toss and snowball bowling. A station where people could play videogames was also available. Many memories were created.
In spite of the freezing temperatures, hot chocolate was being sold to keep people warm. Additionally, children could decorate themselves with press-on tattoos and face painting while enjoying the holiday music playing from speakers.
As the clock neared 7:30, the Brentwood community continued with their tradition to shake hands or hug ten people before lighting the tree. Many people turned around, gave hugs and handshakes to one another, smiled with joy, and hugged family, friends, and even people they have never met before.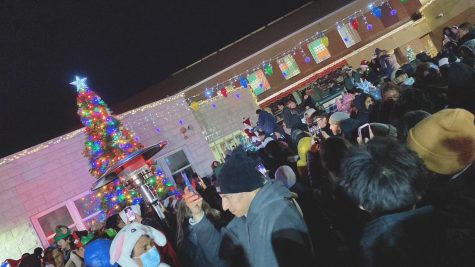 When the tree was finally lit, you could hear clapping and cheering everywhere. Many of the onlookers praised the tree's bright lights, saying that it was "very beautiful and colorful."
With various interactive activities and opportunities for connection, the tree lighting ceremony encouraged Brentwood residents to come together. Interviews were conducted with several attendees at the ceremony to find out what they thought was the best aspect of this special occasion.
"My favorite part of the event was seeing the entire community together," said one attendee. "I'm experiencing such an overwhelming sense of joy that I am at a loss for words."
"My favorite part is the Christmas tree and the lights and the paint on my face," said one little girl.
Many attendees believe this event was necessary to wind down from the chaos of the holiday season. It was a chance for people to have fun and let the worries wash away.
"Because of how busy the holiday season may be, I believe it is essential to take your time and enjoy these kinds of gatherings with your friends," another attendee said.
Then, as the tree lighting countdown was about to begin, Superintendent Richard Loeschner shared a few wise words.
"As I look around what we have here…is an incredible incredible town. I think what we represent here in Brentwood, if it could be copied across this country and across this world, we would be a better place for it," Loeschner said. "We are that shining city on a hill. We have every walk of life here, shoulder to shoulder, enjoying the moment together."
The Brentwood tree lighting is a wonderful tradition that brings so much joy to our community and unites our district. Events like this are able to remind people that the whole purpose of this time of the year is to be thankful and to have the ability to give back.