"Take What You Need, Leave What You Can"
A local community fridge aims to solve food insecurity in Brentwood.
In May 2020 during the height of the pandemic, Amanda Sweeney wanted to implement a project aimed at combating food insecurity in towns like Brentwood. Her solution was to create Eileen's Free Bodega, a local community fridge that provides food and other essentials to those in need.
The bodega is named after Sweeney's late grandmother, who sparked Amanda's passion in giving back to the community. The bodega's motto, "take what you need, leave what you can," resonates deeply with those who cannot afford the basic nutritional foods that others enjoy every day.
According to Feeding America, over 34 million American households struggle to gain access to the healthy, nutritious food necessary to stay nourished. In the aftermath of the pandemic and in the face of rising inflation, these statistics have likely worsened.
Starting a community fridge required months of careful planning. Rachel Wade, a coordinator and volunteer, explained how finding a permanent home for the fridge had its ups and downs but she witnessed "how much the food helped the community of Brentwood." 
The bodega currently has two locations, both in Brentwood, one at 151 Alkier street and one at Christ Episcopal Church. The fridge is open for use all day and has been met with considerable support from the community as well as local businesses. The Brentwood Market, for instance, is a frequent contributor to the bodega.
During the summer of 2022, three Brentwood students formed a club called Student Advocates and made significant contributions to the community fridge. Club founder Andres Rodriguez and two of his Freshman Center peers, Kevin Nunez and Nancy Contreras Lane, were able to donate over 250 meals to families in need by bringing extra, un-opened meals from the high school. 
The Student Advocates club has since expanded to over 30 members. The organizer, Andres Rodriguez says the team "is a tremendous help to the needy and to the town of Brentwood." 
Aside from the donations to the bodega provided by local businesses and Brentwood students, many contributions, including monetary donations, come from Brentwood residents themselves.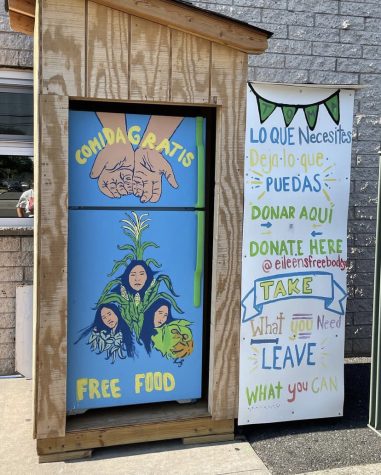 "Eileen Free Bodega is for the people, by the people. So many of our donations come from people just trying to help in any way they can," Wade said.
The success of the community fridge sets an encouraging precedent for the battle against food gaps and hunger in neighborhoods across America. The bodega also serves as an important reminder in our everyday lives to be grateful for what we have while thinking of the less fortunate residents in our community.