Bridging the Gap Between Youth and Politics: Brentwood Hosts Inaugural Youth Town Hall Meeting
The first Youth Town Hall meeting gave young people in Brentwood the opportunity to discuss local issues with elected officials.
Suffolk County Executive Steve Bellone and various head officials of Suffolk County attended the first ever Youth Town Hall meeting at Brentwood High School on Friday, Nov. 18.  
With over 100 questions submitted from students from the surrounding communities of North Bay Shore, Central Islip, and Brentwood, the attendees and elected officials discussed concerns related to healthcare, public safety, the environment, infrastructure, and school shootings.  
"Never in our history have young people organized such an event and in such a manner where our voice actually matters," said Joshua Chan, chairman of the District 1 Youth Advisory Board. 
With the help of these town hall meetings, the District 1 Youth Advisory Board aspires to motivate young people to become informed citizens and engage in civic issues with elected officials. The goal is for youth voices to be heard in the government. 
"It appears our generation is the only one that's capable of fixing [our society] and bringing it back to a place of stability, love, and attention," Chan said. 
This is especially important considering how underrepresented young people are in policymaking. According to a report published by the Center for Information and Research on Civic Learning and Engagement (CIRCLE), less than half of young Americans vote, and just 10 percent between the ages of 18 and 24 are informed about civic education and politics. To be informed and responsibly involved is a way for the youth to influence the government without voting or running for office. 
"By connecting young people and community members to those in power," said Chan, "the voice [young people] have can turn into legislative power."  
For students from minority communities like Brentwood, Central Islip, and North Bay Shore, opportunities for civic education and engagement are highly disproportionate to those of whites students. According to CIRCLE, Hispanic or Black students from low-income households are four to six times less likely to exceed the proficient level on the National Assessment of Educational Progress (NAEP) in civics than white students are.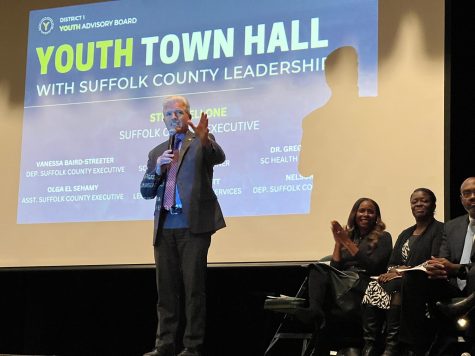 Among the many topics discussed at the historic meeting, Steve Bellone tackled the issue of infrastructure and Long Island's poor walking system. He explained the importance of having youth in a community to keep the economy going.  
"We need affordable housing, we need a diversity of housing for young people," he said, "if we are going to keep young people, it is absolutely critical that we work on this for many, many years." 
Bellone explained that Suffolk County is now focused on investing in building "downtowns" (residential houses around downtown areas), supporting small businesses, and performing industrial improvements. He is also working to take more cars off the roads and create space for areas that are walkable and accessible to everyone.  
"You want to have a downtown core center, where people can come together to great public spaces that are well-designed," Bellone said. "It doesn't matter if you are rich or poor, we all gather there together. It's our common public space." 
Questions about school shootings were also asked to the panelists. Attendees expressed concerns about school safety and the quick responses of law enforcement.  
"Our response on the local level has been to work with school districts to try to provide the tools necessary to assist," Bellone said. "We know that in these situations, response time is critically important."  
Steve Bellone assured attendees that a shooting like in Uvalde, Texas, would not happen here and that school districts are better prepared to respond to a similar situation. 
"If there is an active shooter going on, our officers are trained to go in as quickly as possible," he said. 
Other topics addressed at the meeting were concerns about the environment and Long Island's water quality. Panelist Chris Gonzalez, the Chief Deputy Commissioner of the Suffolk County Department of Economic Development and Planning, explained that the main mission is to guarantee safe and good water quality.  
Gonzalez further explained the usage of oyster farms in Long Island in order to help clean the water. He also discussed how Suffolk County has been collaborating with other counties across Long Island to implement substantial systems that can help steer away from harmful ones.  
Students from Brentwood High School experienced the impact of this meeting and became more aware of the resources and opportunities provided by Suffolk County. 
"The town hall meeting was one of the first times our elected officials reached out to Brentwood," Brian Delgado said, a senior, "something I never really saw in my time here."  
For others, the first Youth Town Hall meeting awakened a sense of civic duty.  
"It was nice to know that we can participate in politics too, and let our voices be heard," said Jose Hidalgo Burgos, a senior, "it gave me a sense of responsibility to be involved now that we have an opportunity to speak to the people in charge of the government." 
Future youth town hall meetings will focus on similar topics that affect the youth directly. The most recent one on December 15 was held via Zoom with the White House's Climate Crisis and Environmental Justices to discuss on equal environmental protection in disadvantaged communities.  
"I want people to understand that there are people in government who want to help to the best of their ability," Chan said. "They aren't these people that should be held on a pedestal. Instead, they should be held accountable for the actions that affect thousands or even millions of people like our families and friends."
View Comments(1)