Brentwood Goes Red for Heart Stroke Awareness
On Feb. 3, Brentwood High School wore red for National Wear Red Day. Created by the American Heart Association (AFA), Go Red February was launched to raise awareness of the number 1 killer illness in women: cardiovascular diseases. 
According to the AFA, over 500,000 American women die from heart strokes and diseases each year, but these diseases get little attention. The AFA aims to highlight this ongoing but overlooked issue by informing people of the truths and facts of heart diseases. 
Susan Goumba, a gym teacher, has been running this event for five years. She first started it in hopes of dispelling the myths about heart diseases while raising more awareness of its risks. "lood pressure, cholesterol, and heart function" are all primary concerns, according to Goumba.
""I want women as well as men to get their numbers checked," Goumba said. "Let's not wait for a cardiac incident to occur before we stop taking care of ourselves. We need to realize that if we do not take care of it [our bodies], metabolic syndromes will eventually wreak havoc on our bodies."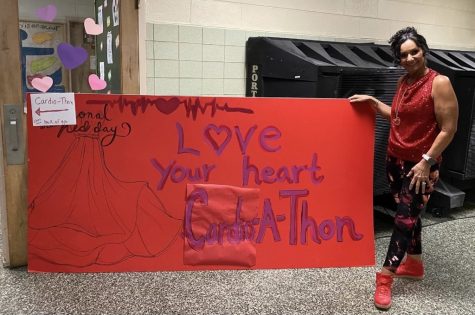 Paula Santorelli, the social studies department head, has had past experiences with heart diseases that have made her more aware of the effects heart disease has on people, especially on women. Santorelli, like Mrs. Goumba, stated the importance of regular checkups.
"It's important for women to notice changes in how they are feeling and to slow down," Santorelli said. "Make sure that you are taking care of yourself, even if you are incredibly busy!" 
Mrs. Goumba hosted an after-school cardio event on February 17th to raise funds for the AFA while encouraging others to invite their friends and donate to the funds raised for the event. 
Several stationary bicycles were set up outside the Sonderling fitness room along with some pink, red, and purple posters with words of affirmation and encouragement, also found all over the Sonderling lobby.  
Henna stations featuring two student henna artists were found at the after-school event, with various designs made for anyone that wanted to contribute to the funds collected for the American Heart Association.  
Anum Khokher, one of the henna artists, said how much she enjoyed the event and encouraged everyone should take care of their hearts "to maintain a healthy life." 
Over $100 was raised during the Cardio Thon event, combined with the henna fundraisers. Though this is a decrease from previous years, Goumba hopes to have spread the main message of the event: to take care of ourselves through good nutrition and exercise.  
"I hope that by running Go Red February and hosting the Cardio Thon, it will have students and staff realize the importance of heart health," Goumba said. 
To know more information about this event, please visit the American Heart Association, https://www.goredforwomen.org/en/