Before 7:18, which marks the start of first period, the Brentwood High School parking lot is a flurry of activity. With students crossing through the parking lot as buses pull up to the front of the building, the traffic and commotion can be a huge safety hazard. This is why new parent drop-off zones were created, making it easier for students to get to school on time while also allowing traffic to move smoothly. 
"When staff, students, and parents were entering the parking lot all at the same time, it was creating a lot of congestion," said Acting Principal Dr. Dashana Dulin. "We [had] pedestrians in the middle of the traffic, which gives more of an opportunity for an accident to occur." 
Prior to the drop-off changes, parents were dropping off their children at various locations in and near the high school buildings. Meanwhile, staff members attempting to park in faculty lots in the back of the building created their own lines of traffic which wrapped around the building.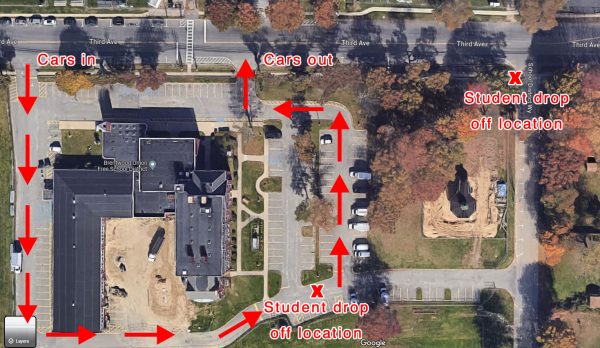 Buses attempting to come on-campus were held up by all the other vehicles, making students late to their first period classes. Many students were still arriving late to their first period classes even into the third and fourth weeks of school. 
"We have 40 buses coming onto campus every day," Dulin said. "The last bus that arrives to campus gives at least a 5-minute window for students to get in the building and get to class. [Before the change to drop-off zones] the last bus was hitting campus at the late bell or two minutes after." 
Additional security guards were placed around campus to help with the flow of traffic. With the cooperation of both students and parents, the difference in traffic between now and before the change is drastic. 
"As with anything new, it took a little while for us to make sure everything worked smoothly," Dulin said. "Parents and students eventually found alternate routes into the building so we aren't all coming in at the same time."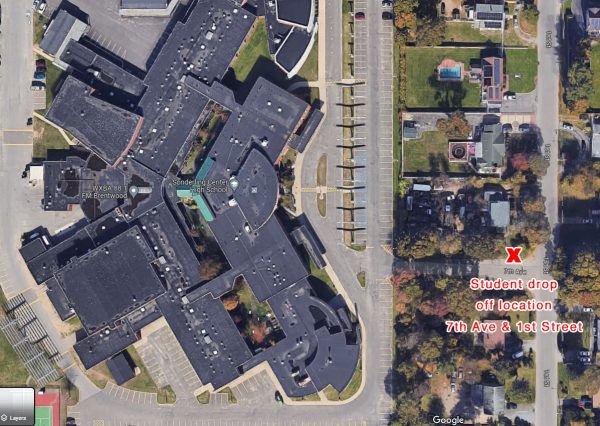 The designated zone for Sonderling students is near the 7th and 1st Avenue entrance. The zone for Ross students is near the administration gate with entry on Third Avenue. Entry procedures for staff and students (with approved permits to drive to school) have remained the same. 
This gives students enough time to walk from their designated drop-off zone into the building using walkways, removing the need to cross in front of moving vehicles. 
"Kids might have to walk a little further, but it gets everyone in the building safely and with enough time to get to class," Dulin said.