Enchanting Seussical Musical Teaches Meaningful Lesson on Diversity
Hang on for a minute...we're trying to find some more stories you might like.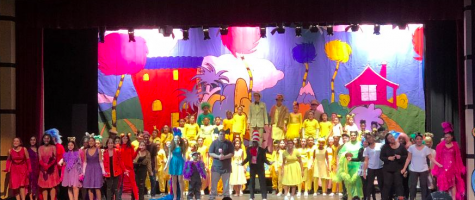 Seussical The Musical is based on the beloved children's books by Theodor Seuss Geisel, also known as Dr. Seuss. To most people, this musical is stereotypically categorized as a show that was created to be enjoyed by children of a younger age. However, this story is actually teaching adults and adolescents alike about the prejudice that exists in the society we live in.
The Cat in the Hat is a mischievous, fun, and imaginative cat that is the host and emcee of the whole show, stirring up trouble but setting things right in the end. Throughout the entire show, he is a mirror, reflecting to the audience what our judgmental world truly looks like.
Horton the Elephant, one of the main characters of the story, is a kind and warm-hearted creature who cares more about others than he does about himself. According to the play's manuscript, he believes "a person's a person no matter how small." Horton tries to save the Whos, "tiny little people," who are "smaller than the eye can see" and live on a floating speck of dust that is later saved by Horton and is put on a clover. The Whos "live in fear as they drift through space and are unable to steer" the tiny planet they live on. It's up to Horton to keep their planet safe from harm's way, but when he looks for help from others, he is thought of as being insane because no one else is able to hear the Whos, except him (because of his large ears).
The Sour Kangaroo, the Wickersham Brothers and the rest of the members in the Jungle of Nool believe Horton is crazy and is hearing voices that are not actually there. He is brought to court for "talking to a speck and sitting on an egg" and is sentenced to the Nool Asylum for the Criminally Insane.
Gertrude McFuzz is a bird with a one-feathered tail, that is hopelessly in love with Horton the Elephant and is willing to do anything to get his attention, even taking pills to grow "the biggest tail of all." Eventually, her tail grows so long that she no can  longer fly, and the worst part is that Horton still doesn't notice her.
Mayzie La Bird is a selfish and vain bird that gives Gertrude the idea of taking the pills in the first place, because she has done it herself and has had great success with it. Mayzie had a fling with a one Tweet McFirth, until he flew off to San Juan leaving her with an egg. She doesn't want to deal with looking after an egg that is keeping her from living life, so she persuades Horton to look after her egg claiming she will be gone for an hour or so. She actually flew off to Palm Beach to spend a few months there to be a care-free woman (bird). Mayzie later bumps into Horton again and claims she is an unfit mother and he must therefore look after and raise the egg once it hatches.
Jojo is a child that loves to think and imagine all the possibilities that the world may possess. Jojo's parents, Mr. and Mrs. Mayor of Whoville, are not very pleased by this, so Jojo is sent to a military academy where General Genghis Khan Schmitz is known to "drill the silliness from children's heads" and teach them to become mature adults through fighting. In the end, "the fate of the Whos rested squarely on Jojo" to save them from their town being boiled in a hot steaming kettle of beezlenut oil." Jojo was able to think of "a peculiar new word no one ever had heard" and saved the Whos by hailing a great "yopp" that was heard by all of the citizens of the Jungle.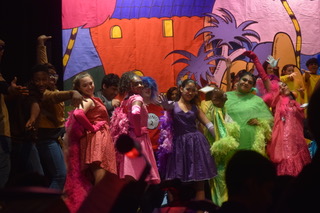 Finally their troubles were over, Horton and Gertrude together decided to raise Mayzie's egg, which turned out to be an elephant bird; Jojo was honored as thinker non-stop; all of the animals from the Jungle of Nool planned on helping to protect the Who's from now on.
The director of Brentwood High School's production of Seussical The Musical, Edwin D. Callaghan, stated that "It is always my hope that our students take more away from the show when they are facing someone who is somehow different from them…" May his words ring true for the students of Brentwood High School.