Brentwood Musical Climbs to New Heights
Brentwood High School performed its first ever production of In the Heights, written by Lin-Manuel Miranda, on Wednesday, February 6th, with two daytime performance for two of the Brentwood middle schools. The shows continued with another two daytime performances on Thursday, February 7th, for two other Brentwood middle schools, as well as an afternoon performance for senior citizens. The show culminated with two evening performances that same weekend, on Friday, February 9th, and Saturday, February 10th. The show proved to be a huge success, selling out both Friday and Saturday nights.
The hard work of the cast, crew, and pit members may have been the cause for such a high turnout; however, it was the culture and message of In the Heights that truly impacted the audience. Marilyn Parada, a senior at Brentwood High School, stated that "In the Heights relates to Brentwood's diverse community. Kaylee Frias, who played the part of Abuela Claudia, added that "if you ask anyone in Brentwood, they'll tell you about their local bodega, or about how their abuela helps everyone out."
The musical represented people living in Washington Heights, and facing their struggles with money, family, and love. The main character, Usnavi, is an orphan immigrant who works at his bodega while watching over his Abuela Claudia. He faces obstacles such as vandalism to his shop and theft of his products, as well as the unrequited love of a girl named Vanessa, who is trying to desperately escape Washington Heights. Meanwhile, Nina comes home from college to her parents, who have spent their life savings to build a future for her, only to reveal that she has been kicked out for skipping class to work two full-time jobs. Throughout the story, each character endures economic difficulties that make them appreciate home and family.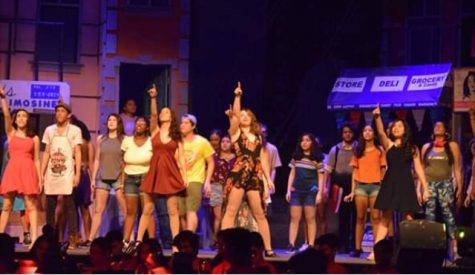 With largely Hispanic characters and some songs and dialogue entirely in Spanish, many cast members felt nervous about portraying people who were ethnically or linguistically different from them. Ariana Vargas, who played Vanessa, said, "it was a step out of my comfort zone, and a little scary at first." Marilyn Parada, who plays Nina, stated that, "I wanted to make sure I could do my best to portray my character so everybody could understand her." Others like Ricky Ortiz (Graffiti Pete) appreciated the opportunity to play a Hispanic role. Ortiz claimed that he felt comfortable because he could relate so much to his character and storyline. Ricky Ortiz said, "Graffiti Pete is literally me."
The immigrant undertones of the musical and the dreams of the characters to rise above their situations had a dramatic effect on all of the actors and actresses, regardless of their race or culturally identity. According to Ortiz, "When you've done something a thousand times and it still make you cry at the end, you know you've done something special."  It was special for all the seniors like Kaylee Frias who said she had never seen so much effort being put into a show in the 6 years she's been involved with the musical. She said, "It was one of the greatest shows that Brentwood has ever put on." Judging by the applause at the end of each show, the audiences would definitely agree. As Ariana Vargas stated, "the stage wasn't just a stage, it truly felt like Washington Heights."