The Robert W. Greene Experience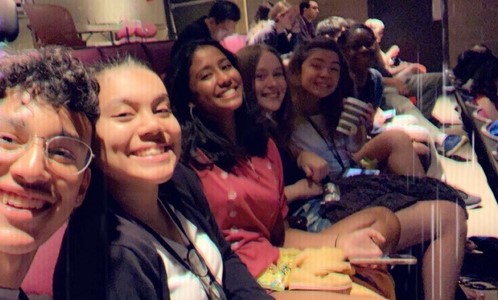 This summer, I took a trip to Stony Brook University to participate in a program for high school journalists. Complete with a week-long stay in the dorms, the students of the Robert W. Greene institute learned how to take professional photos, shoot and edit video, write articles, and perform in front of camera.
The first day I arrived, I hadn't known anyone there. Kids from all over New York State had been carefully selected to attend the program but I was the sole student from Brentwood High School. So after orientation, I walked around for a while exploring the building I was staying in. Eventually, I'd gotten so bored I reached out to a group of girls and introduced myself. Immediately the was a connection. We spent the whole night talking together.
We spent most of our time in the newsroom, a place dedicated to creating and editing real life photo, video, and written work. The first few days were invested in classes where we learned to use all the equipment properly including cameras, microphones, and video graphic systems. When we did leave, it was either to eat or take a trip. On that Wednesday, we visited a Ducks game to interview fans, we also visited Stony Brook Hospital's rooftop garden to learn about children's healthy eating programs.
The beginning of the week was long and the days seemed to go on forever. That is, until we were on a deadline! On that Thursday, many people had already or were soon bound to conduct their last interviews. There was always work to be done. We were split into groups and we all had assigned jobs. Each group was responsible for two articles plus each person was responsible for a profile about someone else in the program. There always seemed to be people rushing around the newsroom, making it loud, and at times, very hectic. Meals turned into brainstorming sessions. The main conversations between my fellow participants and I became completely about work. The stress was really piling on. We worked up until the last second, and then it was almost like a weight had been lifted off our shoulders as we were finally released from the ongoing worry if we were going to make deadline.
The connections we made during our stay were excellent for the real world. We were constantly meeting people, whether it be some journalist alumni from previous programs, or even those in charge of worldwide companies like CBS. Those who plan to participate in this program will likely have an extremely bright future if they decide to choose journalism as a career. It's easy to say that I have learned both physical and mental skills that have prepared me for my future.
I am now sure I want to spend my lifetime doing this, whereas when I entered I wasn't so sure. I truly am thankful to every person involved with that program, from my newfound friends to the advisors and volunteers that helped me find my way. If you would like to see for yourself what the Greene Team of 2019 created, you can visit www.greenegazette.com/2019.