September's Athletes of the Month: Sofia Alvarez and Jason Ortega
Sophia Seda, Co-Editor-in-Chief, Sports Editor
September 12, 2019
The Arrow is proud to announce they will be selecting both a female and male athlete of the month for the 2019-2020 school year. Each athlete will be chosen from a school team and should have an impressive reputation for themselves both on and off the field. The month of September has been dedicated to Sofia Alvarez, a junior on the Girls' Varsity Soccer Team, and Jason Ortega, a senior on the Varsity Football Team. Reporter Sophia Seda contacted each of them for a personal interview on how their time in the sport has impacted them physically and personally.
Q: When did you begin playing your sport?
Ortega: I began playing football when I moved from Brooklyn to Brentwood at the age of 10.
Alvarez: I was 6 years old.
Q: What position do you play?
Ortega: The positions I play are wide receiver and linebacker, along with special teams.
Alvarez: I am the goalie on my school team but I play on the field outside of school.
Q: How long have you been playing it?
Ortega: I have been playing football for 7 years.
Alvarez: I've played soccer for about 10 years.
Q: Who is your role model and why?
Ortega: Ray Lewis is my role model because he was able to bring his family out of poverty by developing a tough mentality to push through hard times.
Alvarez: My role model is probably my mom because of how hard she works for what she wants, given how little she started with.
Q: What has the sport done for you or taught you?
Ortega: My coach has pushed me not only physically but mentally. It's taught me mental toughness, because your mind can push you further than your body can alone.
Alvarez: Soccer has taught me leadership and how to push myself past my limits.
Q: What drew you to the sport?
Ortega: Playing football was a way to find friends at first, but it became much more to me.
Alvarez: My dad played the sport when he was younger so he wanted me to play it as well.
Q: What else do you do outside the sport?
Ortega: I like to go out to eat with my friends, do calisthenics, and go for runs.
Alvarez: I'm involved in the school musicals.
Q: Has it been a struggle to make time for other hobbies and people and if so, what makes it worth it?
Ortega: Football does take up a lot of my free time and my weekends usually consist of a football game and body recovery, but getting the chance to play the sport that I'm passionate about makes it worth it.
Alvarez: Growing up, it was hard seeing my friends go out and have fun having sleepovers or going to the movies while I was busy at practice, a tournament, or a game. But my love for the sport overcame that.
Q: Best advice for someone entering the sport or feeling down on themselves because of the sport?
Ortega: Best advice for someone starting would be to be consistent with the fundamentals.
Alvarez: It would be that I've felt this and I would let them realize why they started and how much they really love it.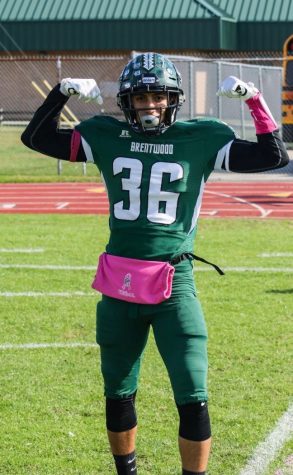 Q: Are there any achievements on and off the field that are special to you?
Ortega: I achieved the 2018 All League Player Award and the 2018 Most Improved Player Award.
Alvarez: I did get accepted to the HOPE program at Stony Brook University hospital.
Q: Was there a time when you thought of quitting?
Ortega: I never really thought of quitting but one thing that made me wonder if it was best to stop playing was when I had a concussion.
Alvarez: I actually did quit soccer for about 2 weeks before I realized how much I missed it.
Q: Fun fact about yourself?
Ortega: My favorite snack is pop-tarts.
Alvarez: I have 4 German shepherds, one of which recently gave birth to 2 puppies.
It was a pleasure getting to know these athletes. The Arrow thanks both Sofia and Jason and wishes them the best in their sports season this year. If you would like to nominate a candidate for the Brentwood Athlete of The Month, please email their name, grade, and brief description of qualifications to brentwoodathleteofthemonth@gmail.com.