Brentwood Creates Its Own Safe Halloween Town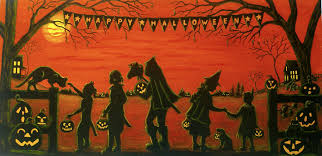 Hang on for a minute...we're trying to find some more stories you might like.
This celebration of Halloween started when all kinds of creatures came out to do their good deeds for Safe Halloween. Young children roamed the decorated hallways of Brentwood High School hoping to receive some delicious treats for All Hallows Eve. The National Honor Society was in charge of this amazing night that comes once every year. This event brought together the whole school and community to celebrate Halloween with some free candy and fun Halloween-themed games.
On Thursday, October 26,  Brentwood High School held its annual Safe Halloween where. Faculty and students from all grades participated. Thanks to all of our volunteer students and staff members who helped decorate the school and give out candy, the event was a huge success. National Honor Society had the whole school donate more than 30,000 pieces of candy! The Brentwood community was also supportive and demonstrated their Halloween spirit in every corner of BHS.  
Throughout the night, guests roamed the hallways of BHS trick-or-treating at classroom doors in their festive Halloween costumes. From grown ups to young children, many were seen dressed up for the occasion participating in the fun activities that were offered. Each teacher who volunteered, had their own special table set with crafts, fun games, and candy for every trick-or-treater who passed by. Some of these fun activities included making your own Halloween mask, catching the duck from the pool, and getting your own temporary tattoo. Student volunteers also enjoyed guiding all our guests throughout the maze of hallways and spending time with our trick-or-treaters. As the night came to an end, guests headed toward the Ross cafeteria and  took some pictures to remember this incredible evening.
This event was seen as a safer alternative for trick or treating. Parents are concerned about letting their child or children out at night because they do not want their kids to be harmed by strangers or any tampered treats. When the sun rose the fearsome night ended, all mortals headed back to their quarters with bags full of treats and smiles on their faces. Would you dare to come in?
Stefany Tribeno, Staff Writer
Stefany Tribeno has plans to go to college after she leaves high school to become a veterinarian. She was born and raised in Brentwood, N.Y. with her Ecuadorian...