HELP WANTED: Puerto Rico's Worst Nightmare
Find out how to make donations to thousands of families in need!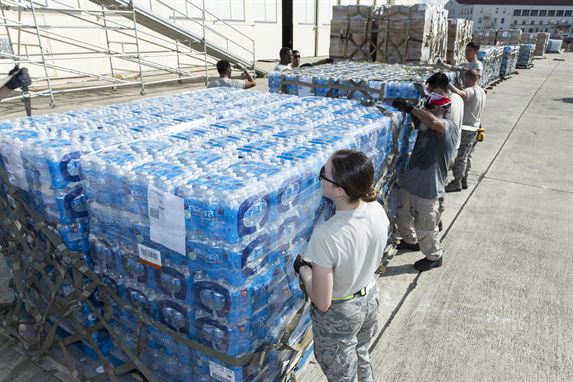 Hang on for a minute...we're trying to find some more stories you might like.
Many people in our community have families and friends that are in crisis in Puerto Rico. They are facing the worst casualties ever recorded in Puerto Rico. Many communities still do not have access to simple resources such as water. With your help, we can bring aid to these hurting people and provide fresh water to those in need. Mrs. Natalia O'Brien, an English teacher in the Sonderling building, is currently asking for donations to help those in need of clean, purified water.
On September 20th, 2017, Hurricane Maria came with full force to Puerto Rico, causing major destruction wherever she hit. Thousands of families and friends suffered in the aftermath of the hurricane. Many communities that were tremendously affected endured such problems as power outages, loss of water, and the removal of other basic resources. This caused many to panic. For weeks many  people had no contact with their loved ones in Puerto Rico because of this catastrophe. 
 It didn't take much time for many national organizations to bring assistance to Puerto Rico in their time of need. Although little aid was available at the time, water was a major necessity for communities. In order to supply water, many Puerto Ricans went to streams, creeks, and any available rivers and lakes. It their only option. However, the water they found was not safe to consume without the proper filter systems. The need for water left people with no choice but to consume dirty and unpurified water that contained harmful bacteria. Many Puerto Ricans are now ill because of their consumption of non-filtered water.
According to Mrs. Natalia O'Brien, there has been a purchase of 22 filters, 12 of which are high capacity ones, that have helped multiple families and communities. As well, she procured 10 individual filters that have helped a small family in need. So far, she was able to send many of the high capacity filters to three other families and communities that were connected to some our colleagues here at Brentwood High School. 
If you or anyone you know is interested in helping those families who are still suffering, you can continue to donate. All the money collected will be given to Puerto Rican families in need. For further information or questions please contact Mrs. Natalia O'Brien or visit this website at https://www.rescue-essentials.com/sawyer-point-zerotwo-bucket-purifier-kit/  Every filter makes a difference!