College Declassified: Guidance on the College Process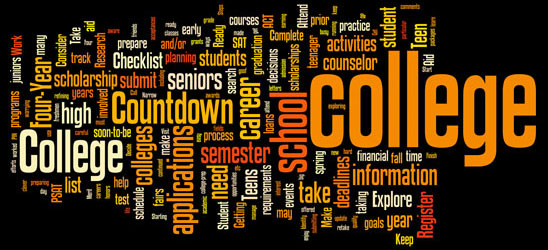 Hang on for a minute...we're trying to find some more stories you might like.
College can seem stressful and complicated! One may not know where to begin when learning about the college process. The path to getting into a college of one's choice is one that requires substantial effort. There are a couple of criteria that all high school students should meet in order to succeed in their college ventures.
The first criteria may seem obvious, but it is also the most important,grades. Your GPA is one of the most pivotal factors that a college considers when looking at your transcript. Ms. Ferguson, a Counselor at Brentwood High School, advises students to "Keep your grades as high as humanly possible." Simultaneously, one should also consider taking challenging classes in high school. Taking the initiative to be in Honors or AP leveled classes shows schools the commitment one has for education. Rigorous coursework stands out when admission officers are looking at transcripts and it shows that the applicant is up for challenges.
Grades
One should not wait until junior year of high school to get their grades on track. This should be a priority that is set during Freshman year because maintaining a good GPA from the start shows colleges a very crucial trait, which is dedication. Mr. Abenes, the Brentwood Guidance Department Coordinator, said, "As a freshman, you should be understanding the college process and focusing on your grades because you are setting the tone for your high school career."
Attendance
Attendance at school is also very important. One should come to school everyday.  According to Ms. Ferguson, "If you are not physically here, then you are missing out on the lessons being taught in classes."
Extracurriculars
Besides knowing that a student can excel academically, schools want to see that you are a well-rounded individual who is willing to use your time to excel beyond the academic field. When asked to discuss what students should be focusing on besides their academics, Mr. Abenes replied, "Besides maintaining a good transcript with difficult courses, you should be involved in extracurricular activities, volunteering in your community, and dedicating your time to something you are passionate about." He also expressed that if a student sees a need for creating something new, you should try to implement it because it will show colleges that you made a difference in your school. Getting involved in after school clubs and sports is a great way to meet this expectation. Brentwood High School has many sports teams and a variety of clubs suitable for everyone, and not taking the initiative to join one would be a waste of opportunity.
Extracurriculars are also a great way of figuring out what a student is interested in career wise. Colleges also want to see that a student is a good citizen to their community, which is why community service is another box they should be checking. Volunteering does not have to be tedious and dull but something one enjoys doing. One should choose to do something that sparks your interest and it is a good idea to get friends involved with them. A great example which Ms. Ferguson gave was that if one loves puppies, then volunteer at a shelter and be surrounded by puppies all day. Ms. Ferguson expressed that above being students, "They should be good citizens and make the world a better place."
Standardized Tests
Another credential colleges look at is the standardized testing score an applicant has, whether that be from the ACT or SAT. Students must prep as much as they can for these exams to assure they receive outstanding scores. There are many resources to help you prepare for the ACT and SAT such as Khan Academy and Method Test Prep.
Scholarships
Scholarships are another major component of which students should be aware. You should look into scholarships on your own as well as being aware of information given at school. There are many scholarships available, but you must seek them out! As a junior and senior, you should be visiting college campuses that you are interested in and conducting thorough research on them. Some scholarship websites worth checking out are fastweb.com, unigo.com, and scholarships.com.
Another essential piece of advice Mr. Abenes stresses is to fill out the Common App and FAFSA early as a senior. You should also be on top of deadlines for specific parts of your applications and not procrastinate. Also, your letters of recommendation should come from teachers who can show your work ethic and know you well. It is very important that your recommendations and college essay are meaningful in showing who you are as a person.
Other Career Outlets
For those who would like to postpone your college endeavors, other career options include partaking in trade schools, unions, and the Military. Just as you would with college, it is important to conduct thorough research before choosing. For more information about these careers visit: trade-schools.net, unionist.com, and military.com.
NooR Fatima, Staff Writer
NooR Fatima, a junior at Brentwood High School, hopes to graduate and attend college for unknown reasons. Born in Pakistan and raised in NY, she is the...