A Bone-Chilling Day at the High School
The hallways of the school are filled with ghosts and ghouls.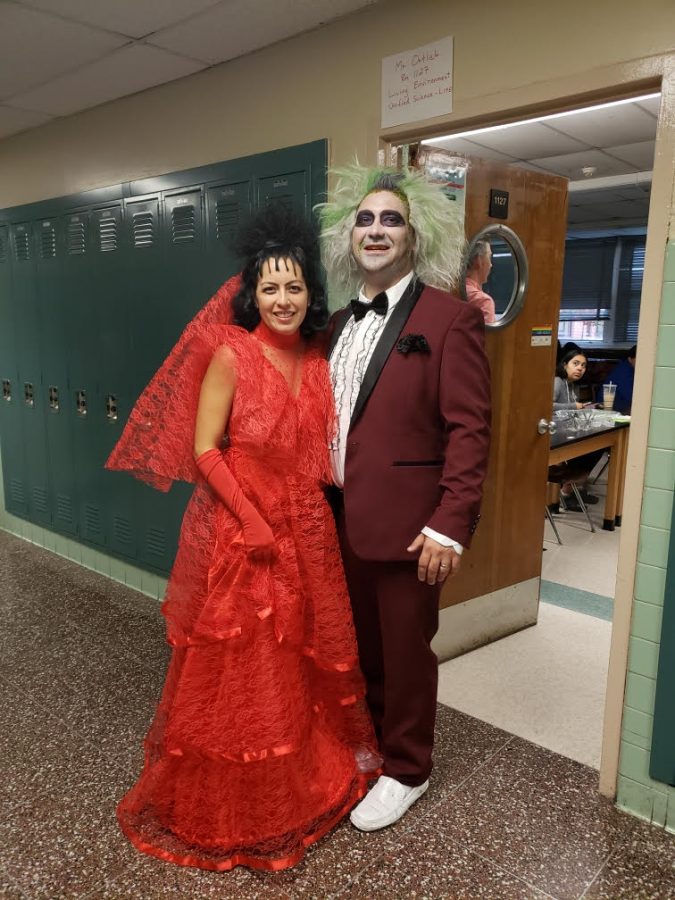 The spirit of Halloween was truly flowing through the staff and students this past October 31. Many have dressed up in celebration of the event, wearing fun and imaginative costumes throughout the school day. One highlight was the English Department's pun costumes. Mr. Cowan, for example, wore a laurel crown and several religious symbols, making him a "Holy Cow." Other teachers planned halloween-inspired activities. For example, Ms. Heintz let her class paint "Day of The Dead" rocks and match boxes for her English 12 Hispanic Literature class.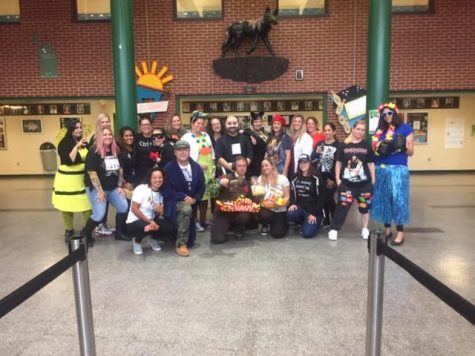 Many students faced obstacles in wearing their costumes due to the horrid weather. They either had to deal with putting on their face paints and other accessories in the school's bathrooms or decided not to participate at all. There were also students and staff who didn't dress up because of their religious beliefs, such as Mr. Mauriello, a math teacher who identifies as a christian. Although he did not dress up, he found joy in seeing others wearing costumes. When asked what his favorite costume of the day was, he answered with Mr. and Mrs. Ortlieb's handmade Beetlejuice costumes. Mr. Ortlieb wore a green wig, and was in a maroon suit with a dress shirt that had ruffles. He also wore white Vans. Mrs. Ortlieb, as Lydia Deetz, wore a red bride's dress to signify a point in the movie where Beetlejuice tries to marry Lydia so he can be brought back to the land of the living for good.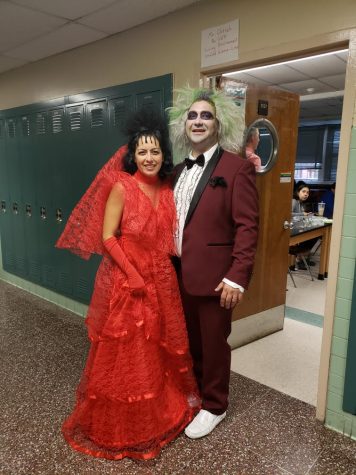 The English teachers weren't the only staff members to join in the fun. Mr. Tronolone, an Algebra 2 teacher, dressed up as Eddie Kaspbrak from It Chapter 2. Making use of this already injured arm (due to a dislocated shoulder), Mr. Tronolone was able to create a makeshift cast using gauze. On the "cast," he wrote the word "Loser" with the "S" being written over with a red "V" like Eddie does in the movie. Another math teacher also got into the Halloween spirit by putting on a butterfly costume. The history department's female teachers decided to dress up as A League of Their Own.
Other than the teachers suiting up, students also used this day to express their creative sides. One senior dressed up as a viking, but much to her surprise, she found that there was another viking —wearing the same exact costume!— roaming around the school building. Meanwhile, in the morning, another student briefly put on one of those inflatable dinosaur costumes that were a major hit back in 2017.
'Tis the end of Halloween and everyone is looking forward to their next chance to show their festive spirit. For students who want to join in the season of giving, the Blood Drive is scheduled for December 9. Other upcoming holiday events include the Tree Lighting Ceremony on December 13.