From My Window: Rainbows for Hope
While the world has hidden away, sheltering itself from the COVID-19 outbreak declared by the WHO as a global pandemic, people have been putting colorful rainbow artwork on their windows at home to show their support for one another. 
Despite the sharp rise of the number of cases in Italy this past March and April, the Italian people were able to maintain a positive attitude to combat the virus as they aimed to bring smiles to passersby on the streets. 
Families began making drawings, paintings, and banners of rainbows with the message, "Tutto andrá bene" or "Everything is going to be alright." Other hashtags included #DesdeMiVentana (#FromMyWindow), #TodoSaldráBien, #TodoVaASalirBien, and #TodoIráBien (#EverythingWillBeFine).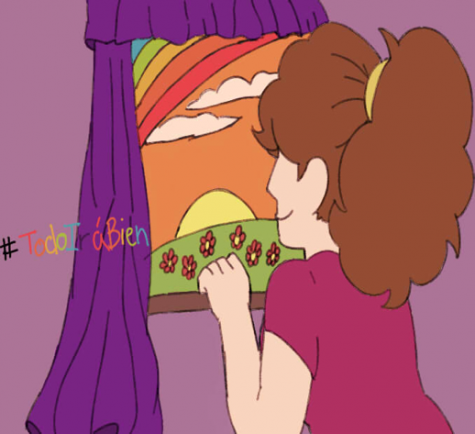 This trend quickly spread throughout Europe on social media networks such as Instagram, Twitter, and Facebook and has since made its way to the U.K., U.S., Canada, and Germany. Not only do the posters of rainbows express peace and endurance in hard times, in the U.K. in particular, they display gratitude to the hardworking health care workers of the NHS (National Health Service). 
In the U.S., rainbows have also been popping up in neighborhoods throughout Long Island. Brentwood High School's Spanish teacher, Ms. Larsen, introduced her students to this activity during distance learning and encouraged them to take the initiative to participate in spreading a little optimism in the community.  
Rainbows often appear when we don't anticipate them. They have this magical ability to uplift the surrounding atmosphere as well as the negative feelings of people. 
Can you recall the last time a faint breeze passed by after a storm? Perhaps you've even seen a trace of a brilliant rainbow trailing across the sky in a perfect arc. The sight of this optical and meteorological phenomenon adds color, light, and life amidst the dreadfulness and darkness of storm clouds.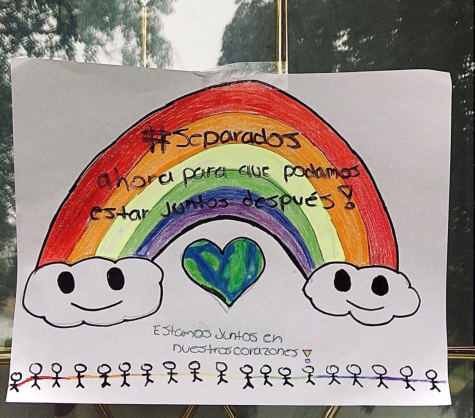 "A rainbow is a symbol of hope. In dark times, hope is what shines through, and as a rainbow comes about after a rainy day, happiness prevails. We may be suffering at the moment, but the rainbow symbolizes that in the future there lays a light," said Allyson Benitez, a sophomore, 
She acknowledges the importance of following the state's mandates but also notes that now is a time for social action: "I hope everyone is leaving their mark and giving a helping hand to those in need. In times of darkness, unity is what ultimately overcomes."
Ashley Zarate, also a sophomore, explained that a rainbow makes her feel "very happy and outgoing." Like the rainbow on her window, she believes she can life the community's spirits by "be[ing] myself and help[ing] out others if they ever ask!"
Many students reflected on the drastic change in their lives since the pandemic began and how the rainbows were a small yet worthwhile act of kindness. Crystal Flores, a sophomore, believed it was "something meaningful and inspiring." 
"Many of us have lost close family members or friends who really impacted our lives in different ways. This project is a way of saying that you're not alone, that there are thousands of people in the same situation as you are." A wish she has now is that "every single family is safe and may God protect every single person," Flores said.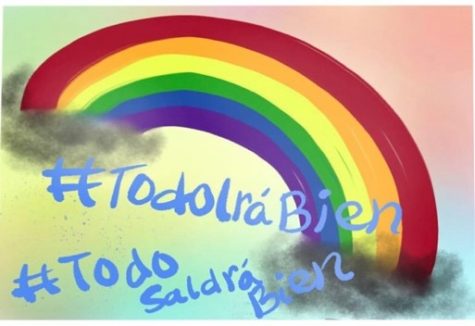 Another sophomore, Arianna Ampuero, found the project to be "quite fun" as she "thought it was a cool little thing I could work on." Indeed, this creative activity is great for keeping children entertained at home and it has also turned into a scavenger hunt for a safe walk in the neighborhood. 
Currently, her wish is "that everyone can stay hopeful even after this whole quarantine." 
A junior, Ashley Alcantara, noted the significance of using this project as a means to share one's gratitude. She said it "makes a major impact on essential workers because saying thank you for all they have done to help their community can give them the strength they need to persevere during these uncertain times."
She addressed the important jobs and roles of each individual during this period: "An essential worker, such as a doctor might think that their efforts are not enough, but just the fact that they are there every day to serve on the front line makes all the difference. Whether you are a doctor, teacher, business owner, or student, it is at these times that we must all work collectively to end this virus once and for all, and to not be discouraged when times are rough."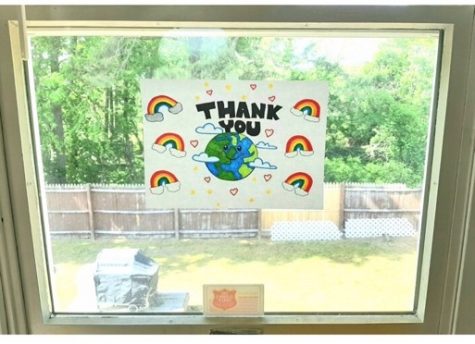 Mentally as well as emotionally, this time away from school and the normalcy of our lives has been a stressful and shocking experience. There are concerns regarding personal finances, the survival of businesses, the matter of coping with the deaths of loved ones, as well as the safety of the heroic health workers serving directly in the frontlines. 
Nevertheless, in the face of every difficulty, hope always exists. Let's all prevent the spread of the virus by following sanitary procedures as usual and practicing social distancing by staying home. 
Get creative and make your own version of the rainbow in your free time! By staying safe and unified towards this common goal, we'll get through this difficult period and soon see a bright, colorful rainbow after the storm.