Educating through a Screen
Brentwood High School teachers share their challenges and successes in online learning.
 Over the past few months, our education system has gone through more radical change than ever before. The emergence of the COVID-19 virus may have caused schools all over the nation to close their doors for the remainder of the school year, but the academic year is still not over.
The immediate need for online learning has left teachers with a dilemma; how do they continue teaching when they cannot have contact with their students? It has been a challenge for teachers to connect with their students through a computer or mobile device, just as it has been difficult for students to adapt to digital learning. 
In order to determine how teachers have been coping with these obstacles, I contacted several teachers from the various content areas for insights on their experiences.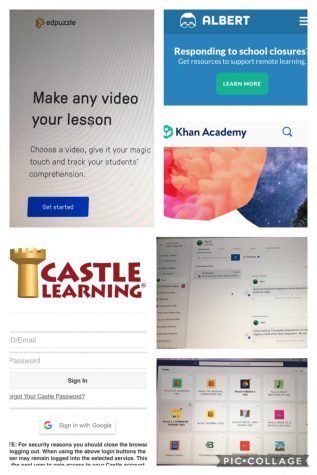 Robert Dilelo, Physical Education
For Sonderling physical education teacher Robert Dilelo, one such obstacle has been a lack of engagement from students in the class content. Moving from a very physical learning environment to a digital one has been a serious hurdle.
"The biggest challenge I face is to try and find assignments that keep the students interested since there are no class activities," he said.
 According to Dilelo, another jarring difference has been the lack of structure that a normal school day affords. Although schedules can seem monotonous in a typical Monday-Friday school week, it provides teachers and students with consistency.
"I've also noticed that there are no such class times. I'm constantly checking assignments throughout the day," Dilelo said.
In our very diverse school district, it's not easy to have equal communication between teachers and students. Not every student has access to computers or tablets at home. 
"The thing I miss the most is the daily interaction with the students and not being able to talk to them," Dilelo said. "Even if it's just a short conversation to share daily topics or just to see how their day is going has been, the absence of that has been hard."
Kelly Hillard, Music
Another hardship particularly relevant to music classes has been the need for teachers to change assignments and curriculum without any training or preparation. While many students did bring their instruments home, a lot of students did not.
The traditional music classroom, in which students play their instruments and then listen to feedback from their teacher, cannot be fulfilled. Orchestra teacher Kelly Hillard explained the difficulty of this transition.
"What I'm doing now doesn't resemble at all what I've done for 21 years. As not everyone has an instrument and can practice at home, I had to create work that I can both send and collect electronically," she said.
Hillard explained that her biggest challenge is that music courses "have no set curriculum, meaning I don't have things to teach to my students at a given time."
"I am lucky to have a degree in music history, so I decided to incorporate my love of that topic to write a curriculum that would hopefully both educate my students about orchestra music through history, but also maybe if I'm lucky, inspire students to discover music that they might not have ever been exposed to otherwise."
After Hillard was able to use her creativity to solve the curriculum dilemma, she faced another obstacle.
"I had to learn the technology involved," she said.
"
What I'm doing now doesn't resemble at all what I've done for 21 years."
— Kelly Hillard
The adjustment to technology for teachers who don't normally use it in their classrooms has also been particularly brutal.
"As you know I don't teach with technology. I have only had a computer in my classroom since this past February, like three months ago, so I didn't have any favorite links or videos or anything to fall back on. I also have never used Microsoft Teams, or done a conference call. I don't know how to embed a link into a word document. I had a lot of frustration in the beginning and continue to still face those challenges when I think I might want to try something different for a lesson," Hillard said.
Hillard now conducts an hour-long video call with all her classes (mine is every Monday). It's a good way to catch up with classmates and they have a fun time connecting with each other.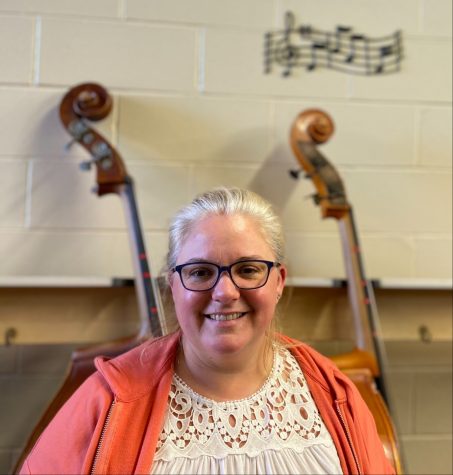 It's easy to forget that teachers are also raising their own families. While continuing to perform distance learning for her own students, Hillard has had to keep up with the school work of her young children.
"My daughter Amy is now five. Within two weeks I gave up on her 'lessons.' She'll catch up on pre-K work at some point. My son Ethan is in sixth grade. His school has been using class sets of chrome books since third grade, so he was familiar with doing some of his work that way. Since my husband is home, he's in charge of Ethan's work," Hillard said.
Hillard shares that her favorite takeaway from the experience is that she gets to see "a different side of my students."
"As you know I can have the same students for up to three years. I can get to know my students pretty well, and I am pretty familiar with your challenges when playing. I know that many of you are AP students, or top 10, or challenged in certain subjects, or maybe risk failing some classes. However, to be able to share this music with you, and then read your personal responses to these works of art has been priceless," she said.
Hillard has been enjoying the positive outcomes of this experience.
"I feel like I appreciate my students in ways that I would not have typically made time for it. I may incorporate some of these lessons or types of lessons in my teaching going forward. I have learned a lot through this process." 
Kathleen Edwards, World Language
The process of learning a new language needs guidance and repetition. French teacher Kathleen Edwards describes how she needed to shift her assignments to account for the lack of in-person teaching: "Without being in person and being able to explain, re-explain, practice, correct in person, work in groups, I have had to alter the materials that I would have used…in an attempt to introduce the material while not making them feel lost."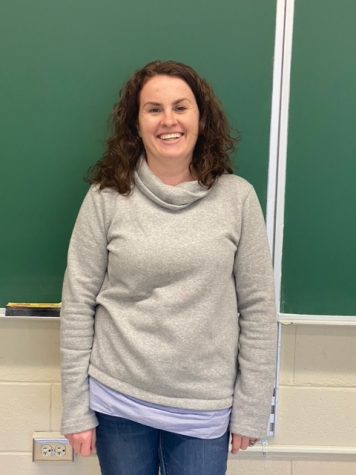 The various means of communicating with students has also been difficult to manage.
"Besides receiving messages and several forms (email, remind, teams) and making sure I keep track of it all, when I don't hear from a student in several days, reaching out is sometimes a challenge. If I don't get a student on the phone, I leave a message or look for a different phone number," she said.
"When I do get in touch with the student on the phone, I find myself trying to explain things over the phone by memory…we are making it work but I miss being in school with everyone very much! It breaks my heart to think of the plans we have for the future that we are not able to complete." 
Edwards is also a mother of two, and she has also had to make the transition to home teacher for her own children.
"I am lucky that she is in kindergarten and is very excited to learn. Trying to keep her on track and without distractions is my hardest challenge. I feel like we do one five-minute activity and she is ready to run away. Plus, we are sharing my computer! I have never taught someone to read before, that part has been amazing to watch," she said.
Paola Lazo, Chemistry
While Brentwood High School had purchased the software for Microsoft Teams last year, many teachers had not been accustomed to using it regularly. Once distance learning began, a lot of teachers were scrambling to get acclimated to the software so that it could be used with their students.
Chemistry teacher Paola Lazo explains how the quick shift to using the platform was painstaking.
"In the beginning, it was a big challenge learning 365 Teams. At first I was still trying to figure out how I was going to teach using Teams. I started first finding PowerPoints that I thought were good and sending assignments as I prepped for teaching remotely," she said.
Lazo also has two children, and the way that she was able to meet the demands of her Brentwood students was to make a clear distinction between family time and work time.
"Since I have two little kids four and five years old, I decided to work nights. I used that time to learn how to record my voice and writing on PowerPoint and then the challenge was uploading a big file. I learned how to compress my files during that time too," she said. 
"I was able to get my camera from school, but it still didn't work the way I wanted it. I finally purchased a pen for my computer and figured it out to record my computer screen and that was a game changer for me. Just to give you an idea of my day in the beginning I worked from 9 PM to 4 AM and now I'm working from 9 PM to 2 AM."
In spite of the long hours, Lazo is committed to checking her students' work and providing timely feedback.
"The grading is a lot longer because I have to wait for the students' work to load. I look at every work submitted."  
"
I miss teaching and I miss having an impact daily. What bothers me the most is that our time was cut short by three months."
— Paola Lazo
Lazo remarks that she has enjoyed personal comments from her students in her assignments, but it doesn't make up for their physical absence.
"It's really nice when students send me happy notes in their class notes. I miss teaching and I miss having an impact daily. What bothers me the most is that our time was cut short by three months. I'm going to miss how students feel accomplished when they take the Regents and do well, as the Regents this year are cancelled."  
Danielle Dunn, Health
Health is only a half-year course and posed a unique set of challenges for Danielle Dunn, who only knew her current students a short while before the online learning process began.
"I was still getting to know all my students. Somebody once said students will not learn anything from a teacher they don't like. It is very important to develop that relationship with my students, knowing that I care about them and want them to succeed. If that wasn't established before we left it certainly wasn't going to happen easily with distant learning," Dunn said.
"The best relationships are made of spending time with each other as a class…it can be tough to make a connection." 
Dunn dislikes the impersonal nature of online learning.
"Sometimes I feel like online distance is more like death by PowerPoint or Google slides or whatever platform. Trying to come up with new ways to get information across is something I've had to learn."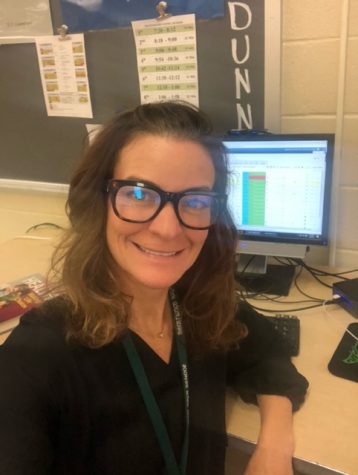 Dunn acknowledges that the content of her courses is easily relatable for students, which keeps them engaged even in a virtual environment. 
"Health education basically encompasses everything that is involved in students' lives as it isn't just physical health but also mental and social health. I am lucky that the content I get to teach is very relevant and they can relate to it. Finding current information is easy and can be more interesting to learn from a distance."
However, she notes that encouraging the students to engage with each other hasn't been easy.
"Getting students in the habit of participating in this is also a challenge. This can be for a variety of reasons, which can be challenging for educators but also for my students as well as depending on their situation at home and what's available to them." 
Dunn has two teenagers at home, and is deeply appreciative of her children's ability to handle their educational activities themselves.
"As far as my own kids go I have a junior and a senior in high school and both are pretty self-sufficient. I listen to them on their Google classroom zooms with teachers and don't think I could help them with their work even if I tried! This is so embarrassing, but it's true; AP calculus and physics and all that stuff is not where my forte is, but I have a new respect for those who teach it, that's for sure."
What has been harder for her is "Trying to get teenagers to social distance," as they are highly social beings. 
Danielle Devane, Algebra
Algebra teacher Danielle Devane explains that another factor in the challenges teachers face is their concerns over their students' health and security.
"I constantly wonder if my students are safe and how they have been dealing with the uncertainties of this time. I have had to modify my type of teaching by adapting to online learning and finding the resources that can best fit my students needs," Devane said.
With three children at home in different grades, Devane has realized she has some reviewing to do!
"I have learned that I have the math topics covered but need to brush up on my social studies skills."  
John Muller, AP U.S. History
John Muller found some comfort in the fact that he was already using online tools regularly in his APUSH classes before digital learning began.
"I feel I was prepared to conduct my APUSH classes online using sites such as Edmodo, AP classroom, Quizlet, Albert.io, and YouTube. Many of these sites I have used already throughout the year so it wasn't too much of a shift. Students met the task with great determination. They embraced the changes and adapted well." 
"
Students met the task with great determination. They embraced the changes and adapted well." "
— John Muller
In addition to addressing the curriculum of his course, Muller had to prepare his AP students for a test they had to take alone at their house. This was certainly a new experience for students, as APUSH students' three-hour test was changed to a 45-minute DBQ essay written on a computer.
For his APUSH classes, Muller created review videos on YouTube for each time period and conducted weekly "fireside chats" leading up to the exam for students to ask any questions.  
In his regents courses, Muller had to make a more dramatic shift: "I began using Remind 101 and Castle learning more as well as Microsoft teams with them. These outlets allowed me to share as many materials with them as possible. Overall I'd say my regent students adapted well also."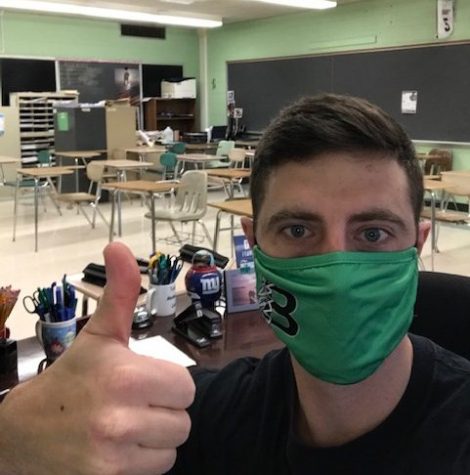 Muller claims his greatest hardship was reaching all students, as health concerns posed a direct threat to their ability to complete assignments and communicate consistently.
"At the end of the day doing homework doesn't take precedent over someone's health. I have been trying to reach every single student to make sure they're doing well and staying safe. Some students have been difficult to reach and I can only send so many emails, reminds and phone calls. I hope everyone is staying safe and healthy with your families throughout this pandemic." 
Brentwood teachers have handled the unforeseen circumstances with supreme understanding and resiliency. What shines through so many of their comments is not negativity or frustration, but rather their willingness to change their teaching practices to meet the needs of their students. They show extraordinary care for the children and families that make up our great community.
If online learning is to continue, we can at least rest assured that we are in good hands.