Conservatism Conquers the Court
A new Justice with conservative views topples a once politically balanced Supreme Court.
Sophia Seda, Co-Editor-in-Chief, Sports Editor
December 18, 2020
On Oct. 26, 2020, Amy Coney Barrett was appointed the new Supreme Court Justice after the position was left vacant due to the death of Ruth Bader Ginsberg. While Barrett was confirmed for appointment by the U.S. senate, some remain wary of the role she will play in interpreting America's laws.  
Barrett's ties to religion date back to her primary school days at St. Catherine of Siena, a school associated with her family's parish church. She then attended an all-girls Catholic high school and Rhodes College in Memphis.
Later, she obtained an academic scholarship to Notre Dame to obtain her law degree. Her Catholic roots serve in stark contrast to those of predecessor Ruth Bader Ginsburg, a non-practicing Jew.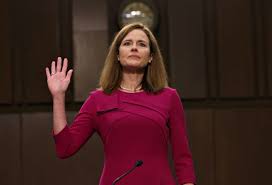 Her personal beliefs, which work in tandem with her religious views, include that life begins at conception, marriage should remain between a man and a woman, there should be a broad expansion of gun rights, and that religion should be a part of everyday life. While Barrett has claimed her concerns do not stand with electoral politics, she has exhibited strong views on specific policy issues such as abortion and the death penalty because they are "against her beliefs," even writing to the Obama administration about her opposition to the contraception mandate in 2010.  
"My hope is that her beliefs will not play a big role in her decision making as a supreme court judge. Even though she has been known to be a biased judge for her religion, I do hope that Amy Coney Barrett will uphold the separation of church and state," said Sofia Alvarez, a senior.  
According to the New York Times article "Rooted in Faith: Amy Coney Barrett Represents a New Conservatism," Jonathan H. Adler, a law professor at Case Western Reserve University said, "Her opinions in death penalty-related cases certainly are not in line with church teaching, and further suggest that she understands the oath she gives as a jurist is to apply the law before her whether or not that coincides with her personal moral or other beliefs."
While attending Notre Dame, Barrett discovered the legal approach called originalism, or the practice of interpreting the Constitution according to what it meant when it was adopted. She claims this is the root of her rulings, and her religious beliefs will remain separate from the position of Supreme Court Justice.  
"She seems like she was tailor made for this moment," Carrie Severino, president of the Judicial Crisis Network said in the same New York Times article. Severino is most well-known for being and influential lobby on behalf of conservative judicial nominees.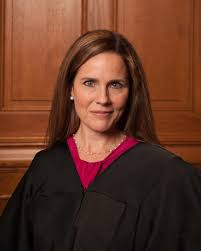 Her first job in law was at George Washington University, teaching as an adjunct professor of law. She also served on the board for Trinity School from 2015 until 2017. During this time, the admissions openly excluded children with gay parents to be accepted. Soon after, she was offered a position back at Notre Dame.  
Barrett is an active member of The People of Praise, an authoritarian Christian community with traditional values such as the embracement of conventional gender roles and recognizing the husband as head of the household. In a membership directory obtained by The New York Times, Barret and her husband were depicted as leaders in South Bend.
However, Barret does not speak publicly about the organization, and did not list her membership when she filled out a form for the Senate Judiciary Committee that asked for organizations to which she belongs.  
"I am not sure whether Barrett is the right choice as a supreme court justice," said Alvarez. "Only time will tell what kind of judge she will be."  
To read more on the life and positions of new Supreme Court Justice Amy Coney Barrett, visit https://www.nytimes.com/2020/10/11/us/politics/amy-coney-barrett-life-career-family.html