Dr. Rebecca Grella Challenges Students to Live Purposefully
Have you ever considered your life's purpose? Dr. Grella, the research teacher at Brentwood High School, talks to her students every day about finding their ikigai, or what really motivates and inspires them. 
Ikigai is the Japanese concept that means "a reason for being." Dr. Grella, who has been teaching at the high school since 2002, encourages her students to connect their research papers with their ikigai, focusing on one main idea.  
In this interview, she discusses her experiences teaching the Research course and how she has had to adapt in the wake of changes brought on by Covid-19. 
Q: What is your favorite part about teaching Research? 
A: My favorite part of teaching research is watching students become so connected to their research, they yearn for more. I love watching students become so absorbed and entrenched in the process that they become the expert on their study system; when my students develop into the fine young scientists that they were meant to be! Oh, and I love hearing from my former students. That is one of my favorites! 
Q: How did you know Research was the subject you wanted to teach? 
A: I started as a Chemistry teacher in 2002. I always wanted to do research with students as I am a research scientist. I have always enjoyed exploring the questions and that is what research is. Asking questions, answering questions and living questions! I always wanted to share the research process with students. Since 2002 I have worked to perfect the research course and I now work closely with Mrs. Medwig and Mr. Mulderig to do this. It has been a great journey and we are constantly perfecting the course. 
Q: What is your favorite part about teaching at B.H.S?  
A: I love the local community and the educational community; we are one big family. I love the amalgam of cultures and the diversity of thoughts. I LOVE Brentwood, I truly bleed Green. 
Q: How has Covid-19 affected your teaching methods?  
A: In the research lab we have turned to Bioinformatics until we can utilize the lab for experiments. We have adapted by engaging students in the discovery of a variety of different proteins. My colleagues and I are truly doing everything we can to make research an exciting experience. I do my best to try and get students to get out into the field at Sunken Meadow State Park. It is getting a bit cold now…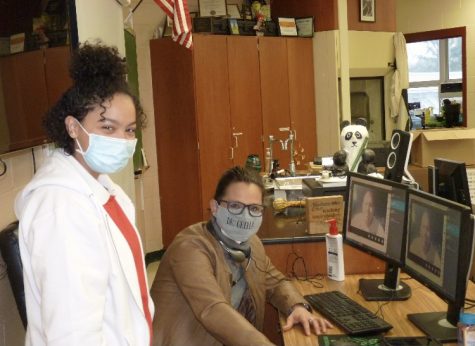 Q: How have you learned to adapt to online and in–person teaching during this time?  
A: Adaptability is one of the most important traits to have, I have adapted by having an open mind. Hybrid learning has been a new experience for all of us, but we are doing our part to make it truly effective and rewarding. I have a great support system of teachers and administrators in the high school and that I am truly grateful for, we are all in this together! 
Q: What have you done to motivate your students during this time? 
A: I do my best to motivate students every day. I make it known that I am here to coach them through the research experience. So, every day, I MOTIVATE! Research to me is motivating as new concepts are constantly unfolding. I use these new things as motivation. Recently, we chatted about the COVID-19 vaccination and that was truly a lot of fun! Science is motivating, research is motivating. 
Q: What is the importance of your students finding their Ikigai? 
A: According to the Japanese, everyone has an ikigai—a reason for living. We need to all seek our purpose and our passions. If we are passionate and find what we love…we are at peace and, above all, happy. That's not to say that it's not hard work, anything good is hard work.  
So, what is your ikigai?