Home Sweet Home
Interact Club and Habitat for Humanity Build Homes for Families in Need
Interact club is working with Habitat for Humanity on December 16 to give families the opportunity to have a place they can call home.
Interact club brings students together to serve their community. Students learn the importance of respecting others, helpfulness and demonstrating leadership skills.
The club meets every other Monday, and sometimes Thursdays at the Ross library. At meetings, students participate in helping the high school with fundraising, food drives and other community projects.
For the past 15 years, BHS students have been completing two Habitat for Humanity Student Builds a year, accumulating over 35 builds in total.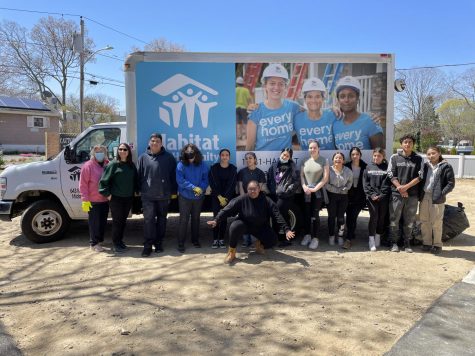 Habitat For Humanity is an international nonprofit organization that helps families build or improve homes to accommodate their needs. The organization helps local communities in all 50 states in the U.S. as well as communities in over 70 countries.
"It's an organization that instead of giving a handout—it's more of a hand up for people who can't afford regular housing" said Mrs. Longo, Ross librarian and advisor of the Interact club.
Habitat for Humanity takes donations from other organizations and major companies/corporations such as: Home Depot, Wells Fargo, Whirlpool, Bank of America, etc.
"They rely on clubs like Interact and big companies, and rely on a lot on donations," Mrs. Longo said.
With every build the Interact club takes part in; the club donates $1,000. Students have already made that donation to the build in Huntington Station.
About 15 students from the club volunteer in the student builds.
"My first year being a volunteer for the Habitat for Humanity was during my junior year," said Yennifer Alvarado, Ross senior and president of the Interact Club.
Working on these builds helps students understand the importance of working together, while also giving to those that may be less fortunate than others.
"It's a project that's a rewarding experience to have students accomplish." Mrs. Longo said.
The project is also an opportunity to learn basic building fundamentals, as well the steps on how to make a home feel like home.
"When I was at the building site I helped in many ways," Alvarado said. "I helped the contractors, who were nice to all of us in the interact club, I helped them paint the walls of the house and helped put up the fences."
While participating in many builds, Habitat for Humanity shares the stories of families that the volunteers are building their homes for.
There's no need to have previous construction experience in order to participate in these builds. Habitat for Humanity have Site Supervisors, Ameri Corp Leaders, and Crew Leaders who are very knowledgeable and help guide the students and/or faculty taking part in the build.
"Volunteering with Habitat for Humanity teaches me a lesson that I will never forget," Alvarado said. "I learned that some people live in the streets, not because they want to, but because they don't have another option and we can help people in our community without having to pay a dollar which is awesome."
Alvarado will be returning and helping in the upcoming build in Huntington Station, as well as Interact members who have never worked with Habitat for Humanity.
"[I'm hoping] this can teach me how hard work pays off because I know afterward the house is going to look great." Javier Chevalier, Ross student and Interact member said.
Habitat for Humanity also accepts those who wish to volunteer individually, or with a small group. The opportunity to help give people the homes they deserve are endless.
Want to give a hand up? You can find Habitat builds near you at https://www.habitat.org/volunteer/near-you
If building is not your style but you would like to still support Habitat for Humanity, you could find more information at https://www.habitat.org/support