The Holy Emo Trinity: How Three Bands Created an Alternative Music Religion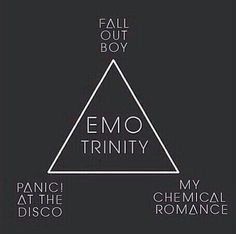 Hang on for a minute...we're trying to find some more stories you might like.
For music aficionados, The Holy Trinity means something entirely different than its religious counterpart. Meet the Father, Fall Out Boy, The Son, Panic! At The Disco, and the Holy Spirit, My Chemical Romance. These bands are considered the kings of "emo" music, and despite hiatuses, breakups, and in some cases, loss of three-fourths of their bandmates, they have an increasingly large following. Have you ever heard the songs "Centuries," "I Write Sins Not Tragedies," or "Teenagers?" These bands are the masterminds behind those hits.
Fall Out Boy (FOB), otherwise known as the Father of the Holy Emo Trinity, is the most popular out of the three bands. According to Phoenix New Times, the band has gathered the most radio play on mainstream and pop radio with seven studio albums. The band was started in 2001, and to this day it has 4 members: Patrick Stump who sings lead, Pete Wentz who plays bass guitar, Andy Hurley who plays drums, and Joe Trohman who plays guitar. When asked, most students recognized songs by FOB or knew of them, specifically a 12th grader here at Brentwood High School. Arianna Leonne lit up at mention of the band, adding that "Fall Out Boy made that song Thnks Fr Th Mmrs, right?" She even began singing the song. The fans of FOB are generally called "Youngbloods" and there's a plethora of inside jokes surrounding the fandom. For example, FOB is notorious for creating songs with horrendously long titles such as "My Songs Know What You Did In The Dark" and "Our Lawyer Made Us Change The Name Of This Song So We Couldn't Get Sued." When someone says a long phrase or sentence, the joke would be to reply with saying, "By Fall Out Boy?" FOB has kept up with changing times by collaborating with artists from different genres such as the K-Pop band, Bangtan Boys (BTS).
Panic! At The Disco (P!ATD) is known as the Son of the Holy Emo Trinity. It has five studio albums, each having its own iconic hits. The band was started in 2004 by Brendon Urie who sings lead. 8In the past, Ryan Ross played the synthesizer, Spencer Smith played drums, Jon Walker played guitar—later replaced by Dallon Weekes, and Brent Wilson played Bass guitar. Currently, Brendon Urie is the only member of P!ATD left, and he is still releasing and creating music. Despite containing only one member, the band has an impressive following with quite a few superfans here at school. "I can name every Panic! At The Disco song. I love them," exclaimed Alexis Cerritos, a senior. Hardcore fans of the band are called "S!nners" and have lots of inside jokes as well. For example, joking about Brendon Urie's forehead is never unacceptable but bringing up anything about milk will probably get you a roll of the eyes and a few unappreciated grunts. P!ATD is also famous for its long song titles in its earlier years with classic hits such as "I Write Sins Not Tragedies" and "There's A Good Reason These Tables Aren't Numbered Honey, You Just Haven't Thought Of It Yet." The same joke applies here if you decide to say "By Panic! At The Disco?" at the end of a long phrase. P!ATD is planning to release a new album entitled, "Pray For The Wicked" on June 22nd.
Last but not least, we have the Holy Spirit of the Holy Emo Trinity, My Chemical Romance (MCR). MCR is credited for being the most "emo" out of all three bands. It kept the most true to its sound throughout its 12 year run and, despite having a few hits, is the least known band out of the trinity because of it. MCR officially broke up in 2013 and fans will forever sing "I'm Not Okay" ironically at its expense. Do not bring up March 22nd around an MCR fan. Just don't do it. It may be something to laugh at inside of the fandom, whose occupants are called Killjoys, but it is not funny for an outsider to bring up the day the music died. According to The Atlantic, the band was started in 2001 by Gerard Way, lead vocalist, his brother Mikey Way, bass guitarist, Frank Iero, guitarist, and Ray Toro, lead guitarist. The band went through a few drummers but its most recent was James Dewees. MCR released 4 studio albums during its run, featuring hits such as "Teenagers", "Welcome To The Black Parade" and "Na Na Na". The opening notes of "Welcome To The Black Parade" are engraved into every fan's memory. Those few notes are arguably the start of the "emo" music movement. Honestly, the only way to start a conversation with someone in the hallway who is wearing an MCR shirt is to sing, "When I was a young boy…" and wait for the next line, "My father took me into the city…" to be sung back to you without hesitation. On the flip side, the only true way to finish a discussion about MCR is to make a joke about how dead the band is and cry inside about it later. So here it goes: Why did My Chemical Romance break up? Gerard and Mikey decided that they had to go their separate Ways.
After learning a little bit about the bands, you've either come to one of two conclusions; you have not gotten over your emo phase or you aren't really sure what "emo music" is. According to the Google dictionary, the noun emo is unofficially "a style of rock music resembling punk but having more complex arrangements and lyrics that deal with more emotional subjects" which is a kind way of phrasing an otherwise derogatory term. When most people think of the word "emo," they think of pale–skinned kids dressed in black robes with smudged black eyeliner and piercings lining their face. The word "emo" has become an insult, and most teenagers tend to shy away from the style of music to prevent bullying or judgement. When high schoolers were asked what genre of music these bands were, fans of the bands answered "alternative" and those who weren't fans answered "emo." Most people who listen to the bands find the term rather offensive, and do not consider themselves to be emo at all. Calling those who listen to alternative music "emo" is like calling everyone who listens to country music "cowboys."  The whole point of different genres of music is so that people can find what speaks to them and escape the labels of everyday life.
Despite the negative reputation the term has gotten, more and more bands are turning to this style of music. Twenty One Pilots, a band whose genre is so complicated even the members of the band can't describe it sometimes, recently won a grammy and has gathered a large following. As the times change and society becomes more open, more and more people are proudly sporting MCR, FOB, and P!ATD logos on their shirts and backpacks. In 2018, standing up for what you believe in and showing people who you are is in. Even those who had no idea who these bands had to admit they've seen their names and logos plastered on students' clothing and backpacks in the hallways. Some may say that this style of music is coming back, but it seems evident to me that fearlessly displaying what makes you happy is the new trend.