Twenty One Pilots Throws Fans into Trench
The band performs songs from their newest album at the Nassau Coliseum in Uniondale, New York.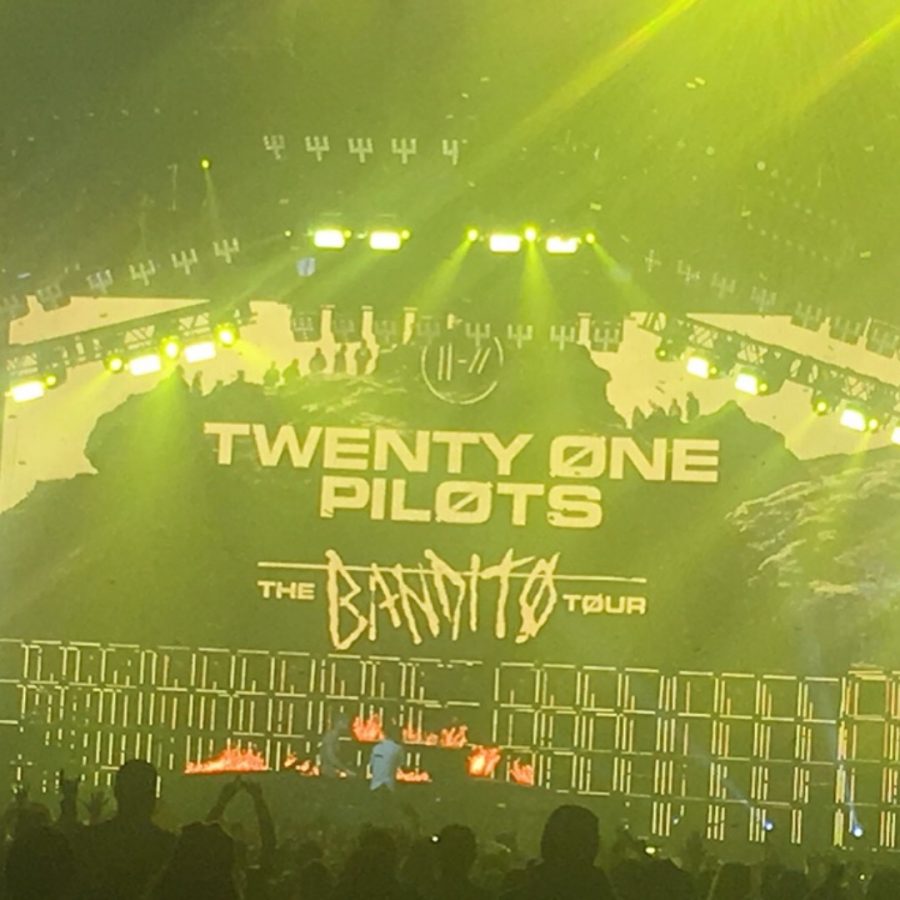 Golden streams of light pierce through the crowd, reflecting off of yellow tape strung across chests and shoulders, the only thing visible in a sea full of camouflage. The low sound of a ripe bass rips through the air, screams erupt, a car bursts into flames onstage, and an ominous greeting, "Welcome to Trench," is given. This is the world created by Tyler Joseph and Josh Dun of Twenty One Pilots.
On October 27th, Twenty One Pilots hosted one of the first shows of their Bandito Tour at the Nassau Coliseum on Long Island. For fans, the tour was a pleasant surprise after over a year of silence from the musical duo. Despite the band's absence, tickets were hard to obtain. Fans who were lucky enough to participate in the Ticketmaster Verified Fan Presale managed to buy out a lot of the venues within days. I was lucky enough to to buy two tickets: one for myself and one for my mother (who can't stand the music I listen to).
Walking into the venue was like being transported into a different universe. Fellow fans were dressed to the nines, sporting the uniform that the band informally issued. Camouflage jackets and jumpsuits weren't necessary, but influenced many outfits that night. Yellow bandanas were heavily suggested, but again, not enforced. Yellow tape however, the bright reflective substance with the power to ward off the villains in Tyler Joseph's story, was being passed around to complete strangers as another ticket into Trench. It was something that bound us all together, whether that ticket was wrapped around our legs or pressed against our wrists.
I was a mess of emotions throughout the concert. I was either screaming at the top of my lungs or crying violently. I never thought I'd see "Car Radio" performed live, that I'd see Tyler Joseph climb a tower fifteen feet away from me and scream about silence in a room full of commotion. I never thought that I'd see Josh Dun do his legendary backflip off of a piano during "Holding On To You." I never thought I'd hear the band perform "Taxi Cab," a slow song with delicate chords written almost ten years ago when nobody really knew who they were. I never thought I'd live to stand in the green and yellow confetti blast during "Trees." These were moments I've seen a hundred times from blurry Instagram videos and short SnapChat stories, but finally experiencing it for myself was unreal. I still find myself tearing up at my own concert videos from that night.
When the lights turned back on and Twenty One Pilots had left the stage, I was left with a scene even more beautiful than the show. The concrete was littered with confetti and so were the fans. Some were crying, some were smiling. It took a few minutes for everyone to start filtering out, each of us shocked by the magic we just witnessed. If I had the chance to visit Trench again, I would take it in a heartbeat.
About the Contributor
Corianna Jackson, Staff Writer
Corianna, an avid Netflix binge-watcher who spends way too much time investing her unrequited love into fictional characters, knows she wants to go to...